From The Washington Post, October 14, 2018
We were surrounded by trees that could have been drawn by Dr. Seuss. A desert hare had just crossed the trail in front of us, its ears translucent in the still-rising sun. But it was something else that caught my 28-year-old son's attention.
"I can't believe how silent it is out here," he said.
This was an offhand comment. I agreed, but said nothing. We walked on.
So I think I know the answer to the questions I brought with me to Joshua Tree National Park that Sunday morning. Can a person find isolation, silence, and beauty in a visit measured in hours? Is it possible to experience a national park's wildness in the time usually allotted for a blacktop tour?
Yes.
Speaking only for myself, this is useful knowledge when vying with work, friends, sleep, and entertainment for the attention of a person in his late 20s.
My son, Will, works for a start-up in Los Angeles. When I visited him recently, he'd had the job less than a year. He'd recently moved from a house-and-yard neighborhood to a loft in the Fashion District. I'd be there five days, but he'd only have the weekend off, and he'd graciously reserved it all for me.
He and I had done a fair amount of camping when he was younger – backpacking on the Long Trail in Vermont, kayaking on the Chesapeake Bay, that sort of thing. His enthusiasm had waned with age. I was a bit surprised when he said yes to my proposal that we visit Joshua Tree, where I'd never been.
He'd been to the park while he was in college in California. He was not only willing to go back, he was even willing to camp. But I didn't press my luck. (In truth, the logistics required for a one-night backpacking trip is hardly worth it.)
I booked us rooms at a bed-and-breakfast called the Campbell House in Twentynine Palms, a town outside the Oasis Visitor Center on the park's northern border. "This made my evening!" he texted after I informed him of the plan.
I think he was eager for a break from the hyper-urban neighborhood of repurposed factories, crowded restaurants, and sidewalks lacquered in dog urine. It wouldn't be a big break, but more like a surgical strike. We'd do a short hike on Saturday after a two-hour drive to the park. On Sunday morning we'd do one of the "challenging hikes" listed on the park's website – the eight-mile Boy Scout Trail. Will wanted to be home by 4 o'clock so he could get a head start on the work week.
We left Los Angeles at 10:58 a.m., an hour later than planned. Twenty miles west of the park we began seeing Joshua trees.
They're not actually trees, but a species of yucca. One could be forgiven the confusion. Their trunks are shaggy with the dessicated foliage of previous seasons, which eventually falls off to reveal treelike bark. The new growth at the ends of branches looks like exuberant pineapples. They're a kindergartner's version of a tree.
We arrived at the visitor center with 15 minutes to spare before the 2 p.m. start of my choice for the afternoon activity. It was a tour of the abandoned Keys Ranch, one of the few successful homesteads in the pre-park desert. Unfortunately, the rangers stopped selling tickets at 12.30 p.m., a mildly annoying fact not mentioned on the website.
We came up with an alternative – hiking the nearby Split Rock loop. After a lunch at a kebab shop in town we drove there, arriving at 3:30. Our phones no longer had service, but the stored temperature prediction was for 96 degrees at 4 o'clock.
A half-dozen cars were parked in an unpaved lot next to a map board and a kiosk with a composting toilet. Will got out of the car. While I changed shoes and stuffed a day pack with water bottles, he ran to the closest ridge of rocks. Soon he was up 60 feet. "Oh, man, I forgot how cool a place this is," he called down.
The trip was already worth it.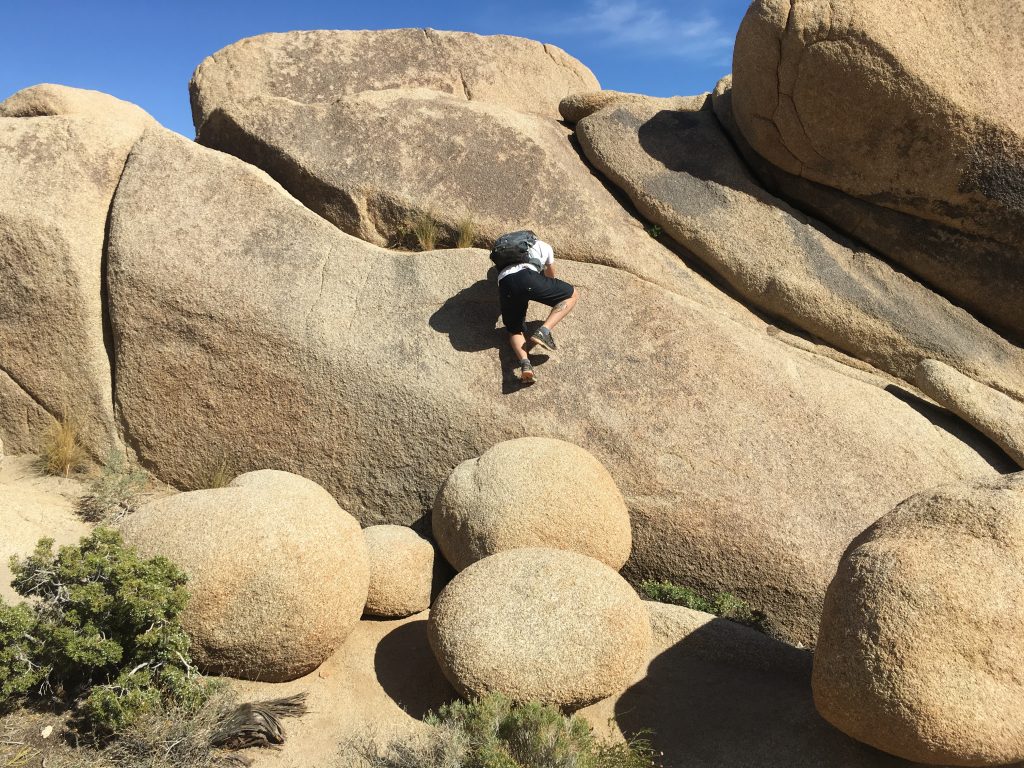 The Split Rock Loop was 2.5 miles long.
The dominant geological feature is a fine-grained rock – sometimes tan, sometimes gray – called "monzogranite." It's the cooled and weathered remnant of magma that welled up from deep in the earth more than 100 million years ago. The boulders, ranging from basket- to building-size, awake the imagination.
A few minutes after we started, I took a picture of an inclusion running through a rock, and above it a jet contrail of the same shape. We stopped at one formation that looked like bread dough from a kitchen with no pans. Elsewhere, I saw the head of a dinosaur whose chief feature was nostrils. And a whale with a racing stripe.
I'd heard that Joshua Tree was a favored destination for people taking hallucinogenic drugs. I was starting to see why.
The rock also invited climbing. About 300,000 of the park's 2.8 million visitors last year were rock climbers. Will, who's done some climbing, got to the knife-edge top of a group of boulders next to the trail. He announced he was going to stand up, but not proceed along the edge "because it's a long way down."
Suddenly, I felt like my long-dead mother, watching me do something stupid like this and wondering what to say that wasn't alarmist. I was communing with two generations.
We'd hardly seen anyone by the time we got back to the car at 5:15. It was a great warm-up, and we had another half-day ahead of us.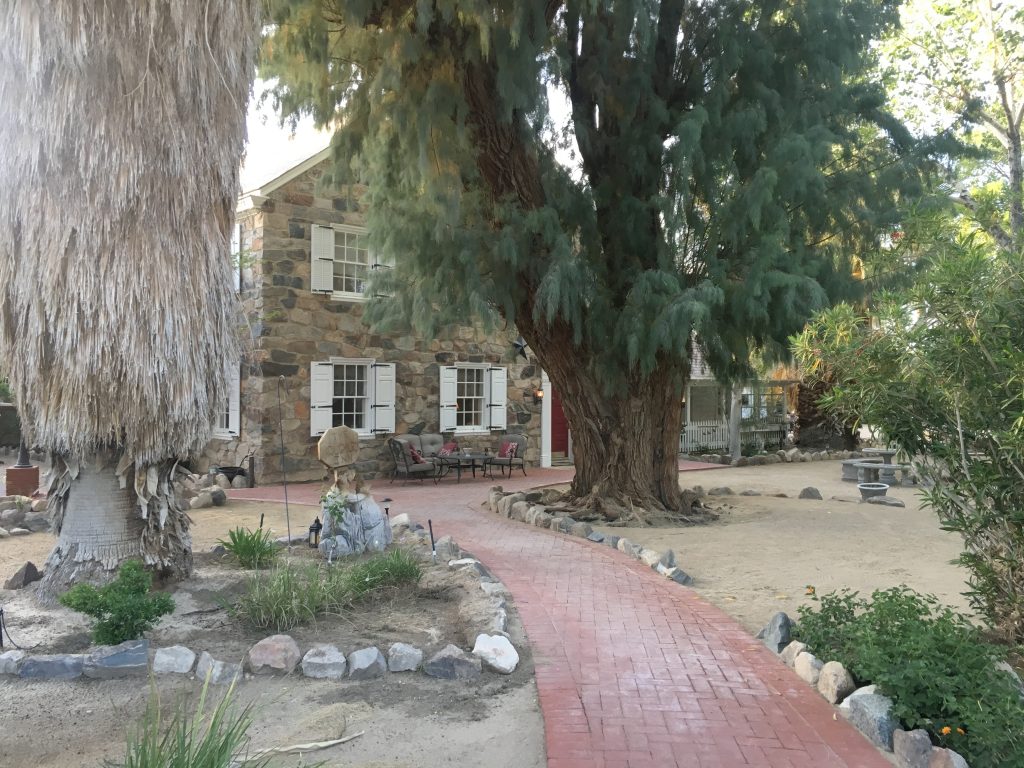 Our bed-and-breakfast, the Campbell House, is a "sister property" of the 29 Palms Inn, which was a few miles away and full. An 11-room stone house finished in 1929, it was the architectural embodiment of a love story of Hollywood dimensions.
William Campbell, a California orphan, and Elizabeth Crozer, the daughter of a Philadelphia banker, met in 1917. They fell in love. Soon after, William enlisted in the army and was sent to Europe to fight. Two days before the armistice, he was gassed. A pulmonary cripple, he married Elizabeth, whose father then disowned her.
In 1924, the couple moved to the Oasis of Mara, near Twentynine Palms, on the advice of a doctor who specialized in the care of mustard gas victims. They lived in a tent. William's breathing improved. Then his $95-a-month disability pension came through. They built a cabin, put up a windmill, and planted a garden.
In late 1925, Elizabeth learned that her father, on his deathbed, had restored her to his will. She was beneficiary of a trust worth $6 million. They built a stone house, where they lived for much of their lives.
Today, the couple greets guests inside the front hall in a half life-size photograph, although their eyes are for each other. An adoring Elizabeth gazes at her war-damaged William, in uniform and puttees.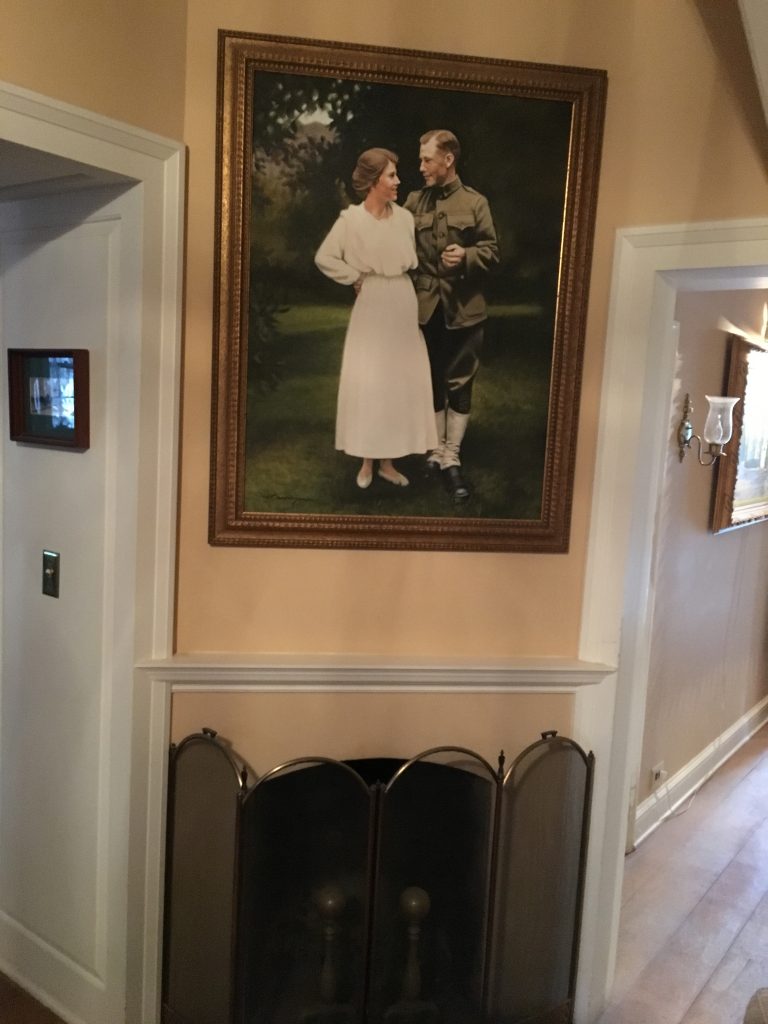 Outside, shaggy palms and tamarisks shaded the raked-gravel yard. Chairs and tables sat on islands of fieldstone. Behind the house were cottages and a picket fence. At the edge of the property a wooden water tank stood next to a headless windmill tower. The place was a cross between a Zen temple garden and an abandoned set for "Oklahoma!"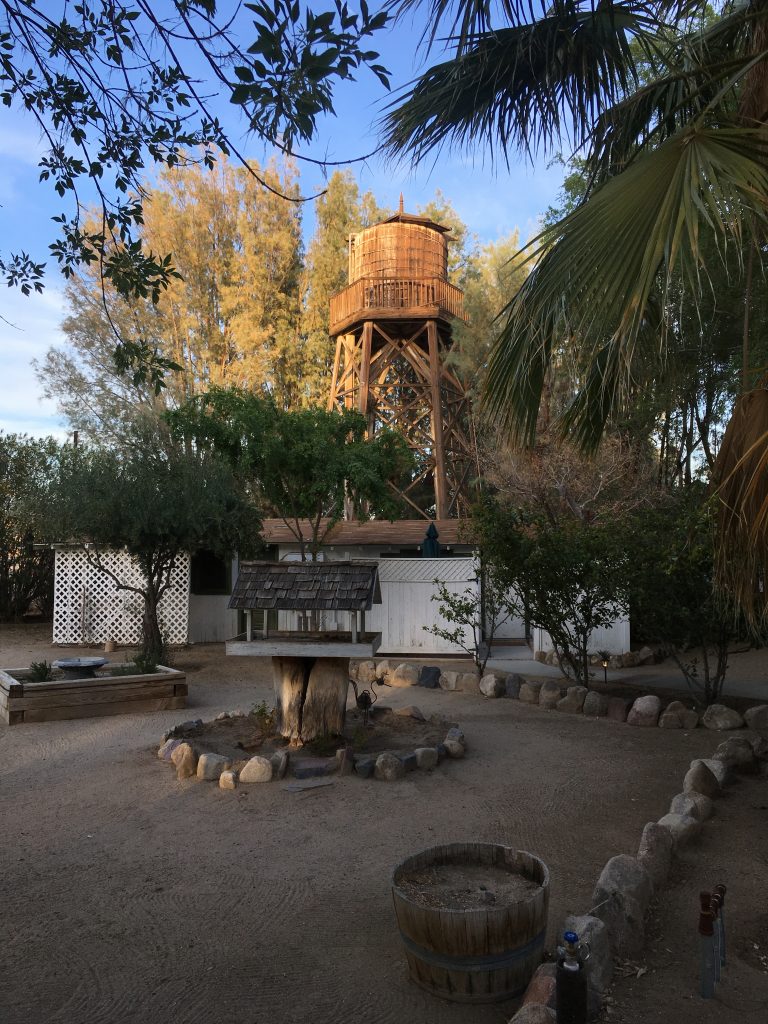 My son and I had the master suite upstairs, whose decor was haute grandmere.
It featured a large bedroom with a fireplace, a smaller one next to it, and a bathroom in Eisenhower-era blue tile. My bed had 10 pillows. On the bedside table was a tray with two Old Fashioned glasses and a bowl for ice. A mahogany china cabinet– a refugee from downstairs, I guessed– held pitchers and sugar bowls. On the mantel were six volumes of Readers Digest Condensed Books.
A relic from a couple of eras, the Campbell House looked like a great place at which to spend a few days. Too bad we had less than one.
We slept in the beds, but left long before the breakfast. An afternoon temperature of 101 degrees was predicted and we wanted an early start.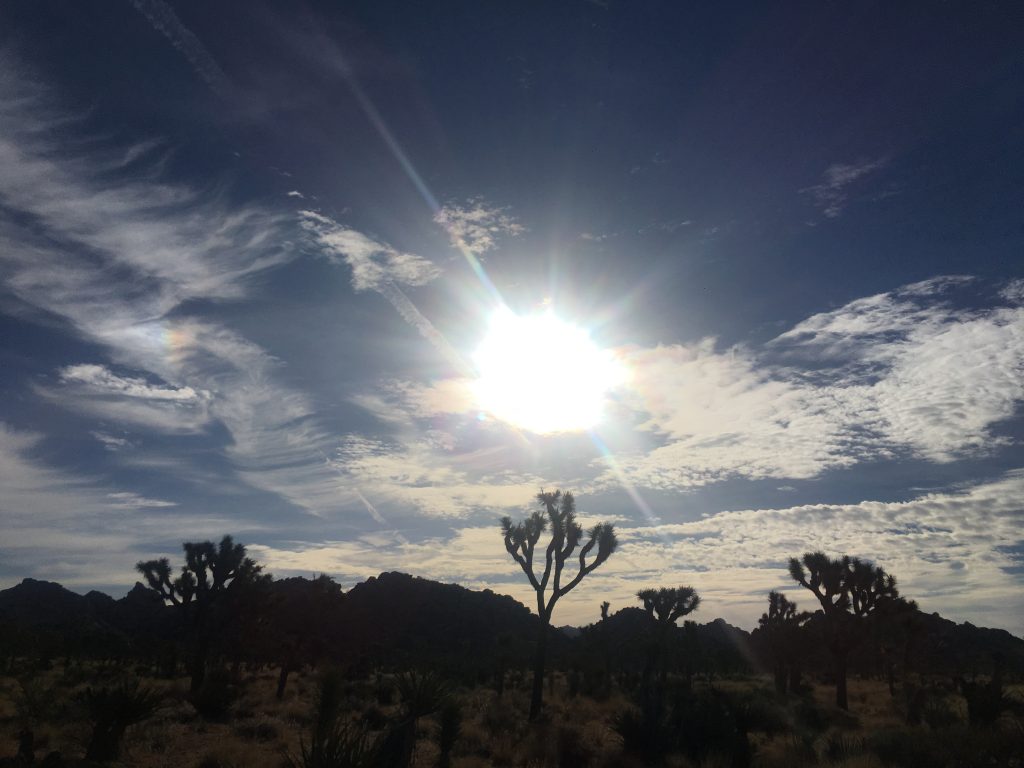 We arrived at the parking area for the Boy Scout Trail at 7:12 a.m. The plan was to get a ride back to the car from the other end. I'd been told that Uber drivers operated inside the park. We'd see if that was true.
There were 18 cars at the trailhead – a surprisingly large number. It seemed unlikely they were all day hikers who'd risen earlier than us. Soon, it was clear who they were.
To our right, a woman with pink hair, carrying a sleeping child, made her way through the spiky scrub, followed by a man clutching sleeping bags to his chest. We stepped aside to let five people pass; they were pulling two blue plastic wagons piled with stuff. Soon after, two more men passed us, hugging a tent and sleeping gear.
Car camping out of sight of the car – but not so far that a backpack was a worthy investment – appeared to be popular in Joshua Tree.
After that we had the trail to ourselves. This has been my experience in national parks. You don't have to walk far to get away from people.
The trail was flat for a while, and then climbed gradually. The Joshua trees became bigger and more evenly spaced the deeper we went into the park. They were also more extravagant, as if finally free to do what they wanted.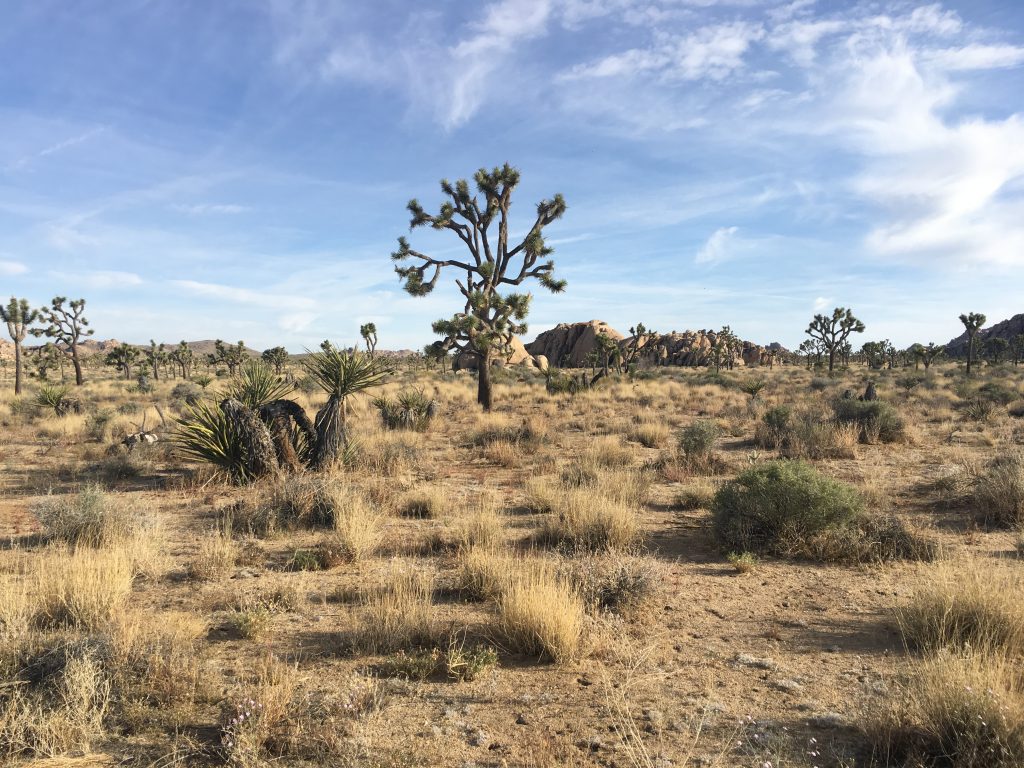 "How well do you remember your Dr. Seuss?" Will asked at one point. "These trees remind me of the trees in 'The Lorax.' It's an allegory of environmentalism."
I'd forgotten, if I ever knew.
Soon, we crossed a ledge. Across it ran a strip of white quartzite, segmented and raised from the surface. It looked like the fossil backbone of a creature from the Seussian Epoch.
For a while the trail was a dry streambed, channeling us between gigantic hills of rock. I suggested we leave it to get a taste of exploration. But I didn't want to go far.
A couple of weeks earlier, the New York Times Magazine had run a story about a 66-year old man who went backpacking alone in Joshua Tree in 2010. The headline read: "Two hours from Los Angeles, it's still possible to completely, tragically disappear". No trace of him was ever found, despite many searches.
Our destination was a high spot about a half-mile up a slope to our left. The land was a boulder garden, every step an invitation to twist an ankle or fall into a crevice (which, of course, is what makes it fun). I looked back toward the trail several times, taking visual bearings in case we needed to retrace our steps. The landmarks disappeared into the geological jumble as I climbed; it wouldn't have been easy.
Will scrambled straight up. I walked in switchbacks. He stopped before the final pitch and gave serious thought to his route. When he got to the top he spread his arms out, haloed in the sun. "Take a picture of me like the statue in Rio de Janeiro," he called back.
I did.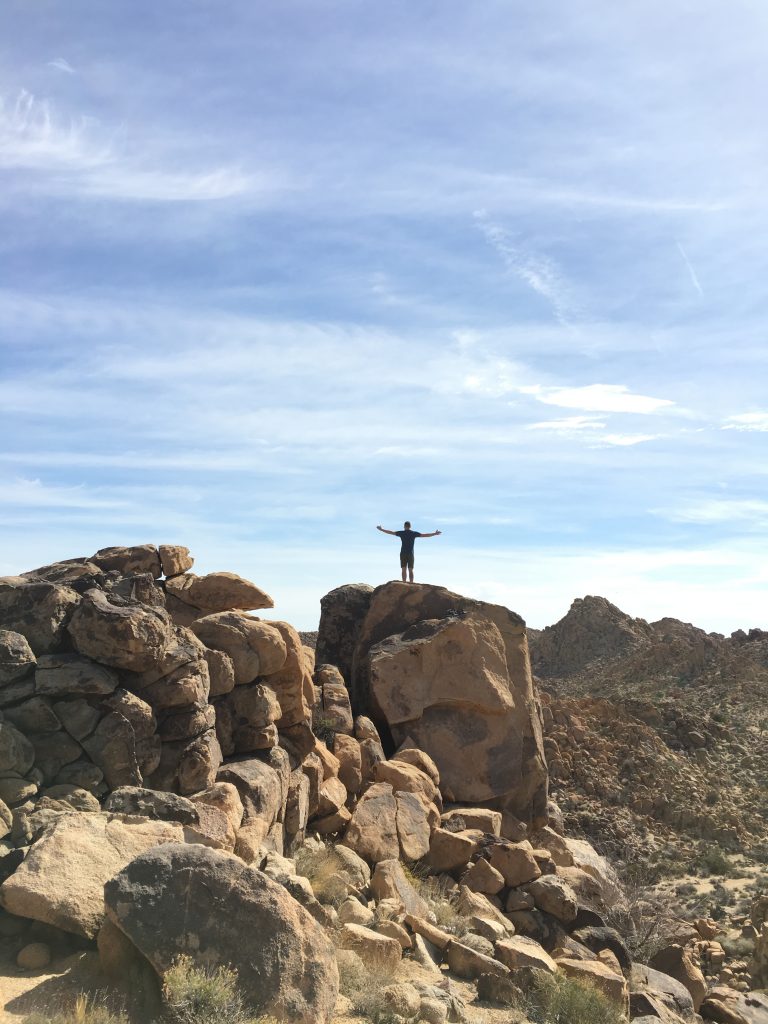 We sat at the top, ate energy bars, and drank from our water bottles. The trail, sandy and serpentine, was in plain view. Beyond another ridge was a basin and, far away, a few hazy buildings. There'd be no getting lost today.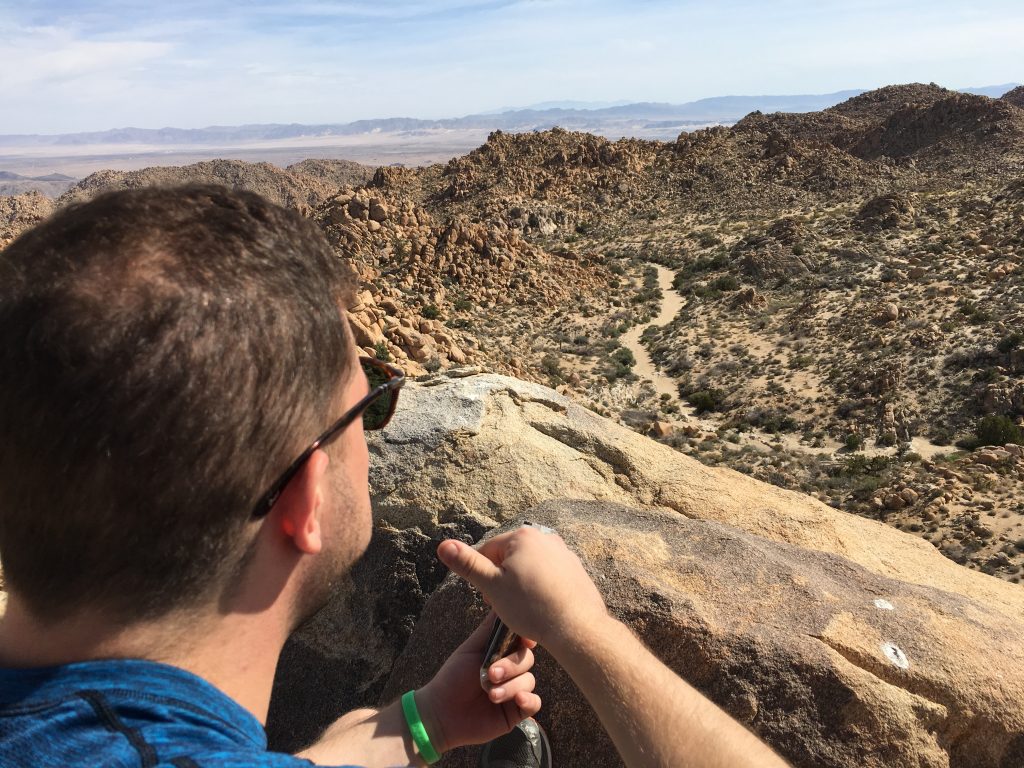 A truth about walks in the wilderness is that they're not only invitations to silence and contemplation, but also to conversation and self-revelation. Two people walking single-file on a trail have a perfect balance of intimacy and distance.
They can speak in ordinary tones. They don't have eye contact. They can stop a conversation because of real or feigned distraction. They can resume it without asking permission. Say what you want about Freud, he was onto something with his rules for the psychoanalytic encounter. And you don't have to stop after 50 minutes!
In our two walks, my son and I talked about many things. He told me what he wanted to change to get ready for his thirties. I told him things I'd never mentioned before about mistakes and bad decisions I'd made. We talked about money. We talked about generosity. We talked about what was around us.

"This looks like it could be Tatooine from 'Star Wars'," he said, stopping to face a tawny wall of rock with gravel at its foot. "Like you could see droids and Sand People coming around the corner."
On our hike there was no music, nothing to read, nobody to visit, no shortcut, no responsibilities. (True, he did check his phone a few times.)
But there was an end.
A long switchback took us down to a plain where the trail was wide and indistinct. We saw a road and estimated how long it'd take us to get there. Soon, we had a cell signal. We called an Uber.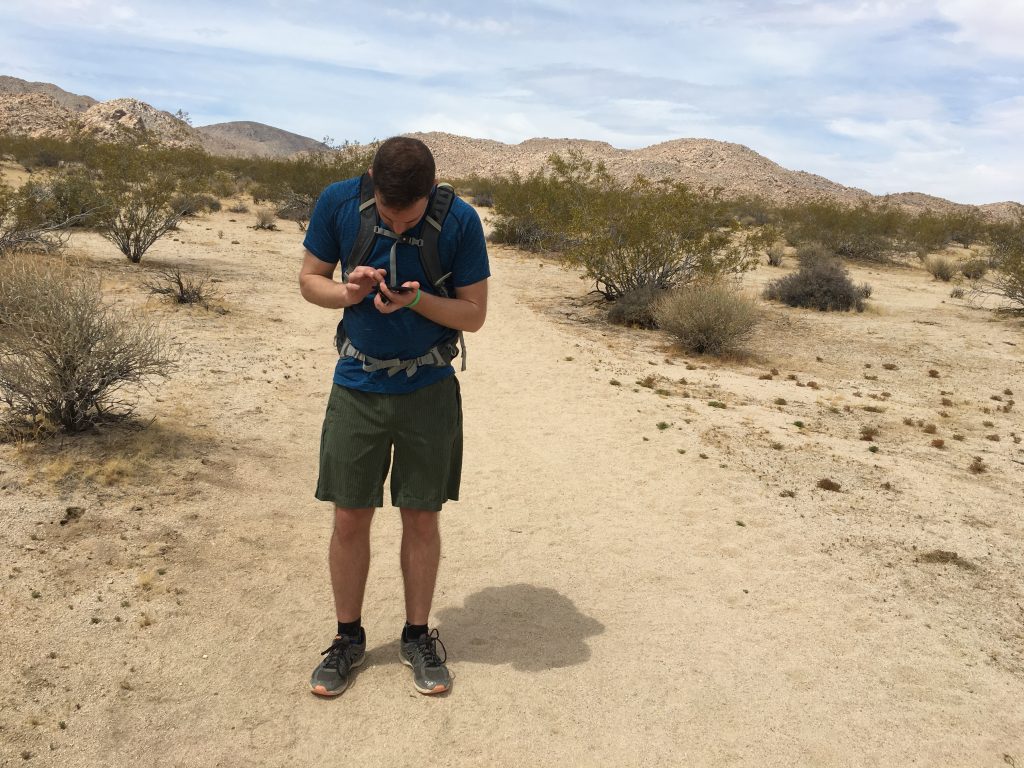 Fifteen minutes later, a man named Greg picked us up. He was my age. He'd grown up in Compton. He'd moved from Los Angeles 18 years before, and had supported himself doing plumbing, electrical, and air conditioning work.
"It's so quiet," he said.
Soon, we were back on I-10, one of thousands of cars streaming west.
We got back to Will's apartment at 4.12 p.m. We'd been gone 29 hours. We took showers. Will said he wanted some time to himself.
It was time for him to gear up for work.