The manager of the hostel where I stayed the first night out has an interesting story. I just caught a bit of it in the morning before I left. I was uploading a post and pictures. I was of course the last of the guests to leave.
His name is Joan Saura. His father was from Catalonia. Joan is the Catalan equivalent of Juan, or John.  As in Joan Miro.
However, Joan, who is 35, is Swiss. He grew up in Lausanne. He speaks perfect English with a French accent. At home he spoke French, Catalan and German. He studied ancient history and philosophy at the University of Toulouse. As he laid the fire in the living room of the hostel, his iPod mix was playing "Big Rock Candy Mountain."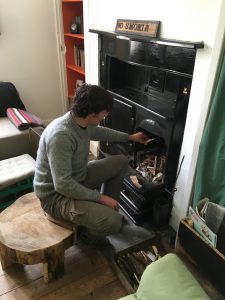 Joan spent the winter at the hostel, hiking the hills in the crusty snow and helping out. He isn't paid, but he doesn't pay either. The owner of the hostel, who inherited it last year, is away. Until June, Joan is the boss. He was a good host, giving a tour of the place, explaining how the balky shower worked, and of course making room for an unscheduled guest. He doesn't hesitate to set limits, however. He makes the guests dry and put away the hostel dishes they use for their meals. "It is self-catering," he tells them.
Joan spent more than 3 1/2 years nearly bicycling around the world. He left Switzerland and rode east for 1 1/2 years, taking copious notes. He sojourned in places along the way, including a month in Kazakhstan. He pedaled to the base camps of several large mountains in Nepal. It wasn't as hard as he expected. On one ascent he met a 72-year-old man smoking cigarettes and biking the same route.
Eventually, he got to the Sea of Japan. He took a boat to British Columbia, with the idea of riding the Pan American Highway to Patagonia. He took a nine-month rest in Mexico. In Panama, he hurt his knee and had to stop. He's still rehabbing and is told he will be able to ride again. He came to Scotland in November 2015.
He makes his living writing twice-a-month pieces for the Swiss newspaper Le Temps, and contributing travel stories to a Chinese website, travelplus.com. (He writes in French and the articles are translated).
"Oh, so you're a journalist?"
"No, not a journalist. I never studied journalism. I am just a writer."
For his Chinese audience he is mining a vast stack of notebooks ("perhaps forty," he said) for stories of strange events and unusual people. Georgia and the Caucasus were particularly fertile territory. A friend asked him to do it. "It is very exotic for the Chinese to hear about such things," he said.
He realizes, however, that he's coming to the end of that string. Not because he's run out of stories but because they're getting a little old. "The Chinese want new things," he said. He's not sure what's going to come next.
He has a website, cyclosophe.com.
I told him he had a pretty interesting story himself, and perhaps should write a book.
"Perhaps I could. But I only want to write a book if I have a great drive to do it." As for his interesting life, he said, with charming nonchalance: "Everyone has an interesting life.  It is a matter of curiosity and time to discover it."
I couldn't have said it better myself. The problem was it was noon, and I was out of time.