Who doesn't like islands?  They're pocket-sized continents with topographical features to explore even if they're only a dune of sand with grass on the top.  They let us know the essential truth about life on our planet that wherever you are, you're surrounded by water.  On islands you get the message in hours, and sometimes in minutes.
When Don Baugh, who's introduced me to so many islands around Chesapeake Bay, invited me to explore islands on the Georgia coast, it didn't take long to say yes.
He'd done the trip a couple of times before.  It would be repeated in the quasi-sybaritic style he's perfected:  serious paddling under changing conditions; camping in places with no civilization nearby; served by a motorized chase boat carrying water, food and alcohol.  A formula hard to beat.
A dozen people were on the group.  A few flew down from Maryland, one drove from New York, but most traveled from Annapolis in a church van pulling a three-tier kayak trailer with seven boats tied on.  We left at  8.15 a.m. on a Friday and arrived at Tybee Island, Georgia, 12 hours later.
We spent the night at a motel and the next morning unloaded the boats and all the gear at the beach where we would start.  While one group of people shuttled vehicles to out take-out point, Little St. Simons Island, about 90 miles down the coast, the rest killed time walking around town and lying on the beach in the slanty fall sun.
This was going to be the inaugural trip for the Greenland-style paddle I'd made with lots of help from Don's brother, Bob.
We took off in mid-afternoon, which given that it was early November meant there were only a couple of hours of daylight left.  The wind was behind us as we crossed the mouth of Tybee Creek and then went into it, aided by the tide.  It was a fast paddle with the excitement of a following sea.  We camped at a public island with a clearing, a fire ring, and a path into the high ground with cleared spots for tents off it, like brussel sprouts on a stalk.  This was mine.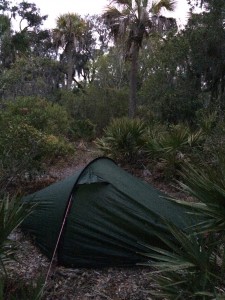 Don gave a synopsis of the trip in front of the fire.  The trip required planning of symphonic complexity and precision.
Weather, and particularly wind, would be the most important variable, with tide close behind.  The water rises and falls at least eight feet each tide cycle in this retgion, driving huge volumes of water through the channels between islands.  The inlets are the most hazardous stretches; they offer long fetches for waves. and wind and tidal current can clash in unpredictable ways.  Last but not least, the state of the paddlers–individual and aggregate–changed like the weather and mustn't be overlooked.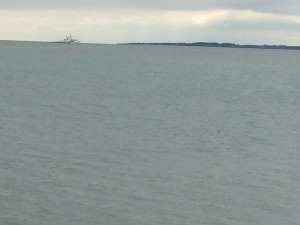 We were told the next morning would be difficult.  The forecast was correct.  It rained during the night, and was overcast and cool as we paddled off the island into a headwind that reduced our progress by a couple of miles an hour.  We did better when we turned south and headed down Bull River, the main channel through the island.  There, we got a wind assist as we made our way toward the southern end.
Things changed, however, when we got to Wassaw Sound, the wide stretch of water between Tybee and Wassaw islands. There the wind blew onto our bow quarter, creating waves that one wanted to head into for stability but that eventually had to be taken obliquely to make the heading.  It was tough.
Wind at your back in such conditions sends the boat down into the trough of waves, where the bow buries momentarily.  To the paddler the view is like outtakes from a B movie about submarines, filmed in a special effects tank. Unfortunately I have no picture to support this  description.  That's because in paddling there's something analogous to the "observer effect" in physics, which says that when you measure something you alter the state of the thing measured.  When you stop paddling to take a picture of how you're doing, how you're doing can change in a hurry.  As a consequence, pictures tend to be taken in calm conditions.  At least mine are.
After a long stretch with no breaks, we made landfall on an oyster-shell bar on the southern side of Wassaw Sound that marked the entrance to a creek int o Wassaw Island.  We had waves on the starboard beam in this final stretch, and  then had to change our heading and paddle against a tidal current so that we wouldn't be swept into the ocean.  Don told me once that he worries when people come ashore quiet; it often means they're spent, physically or emotionally.  Some of us came in quiet to this oyster-shell bar.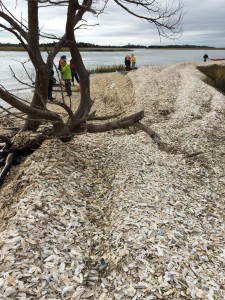 We weren't nearly done, however.  We paddled the length of the island to the inlet between it and the next one to the south, Ossabaw.  We stopped at a place called Pine Island and waited for the tide to change so we could cross in slack water.  There was a beautiful stretch of beach, but it was too cool to swim and we were too tired anyway.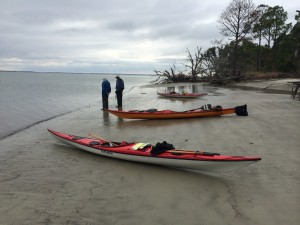 As we ate lunch on the edge of the high ground somebody noticed two wild pigs making their way through the marsh behind us.  They were feral pigs, the descendants of escaped barnyard animals, but no longer barnyard approachable (except after they'd gone by).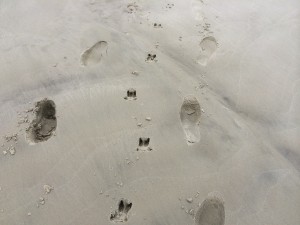 Somebody got the idea of starting a fire to stay warm and entertained while we waited for time and tide.  It was a brilliant suggestion.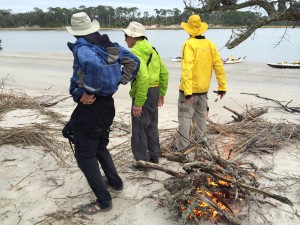 We crossed more easily than expected and arrived at  a place called Bradley Point, which was just inside the mouth of a creek at the edge of a live-oak forest.  We stayed there two nights, as the next day's conditions were unfavorable and Don had built an extra day into the itinerary for just such an eventuality.
On our free following day half of us explored the island on foot–the ocean was a few miles down a path through the woods–and the rest paddled up the creek we were camping on.  I was in the latter group and left later than it, passing several of the paddlers far up it where they'd turned around.  I proceeded on a while; they said they were going ashore and would wait for me.
I reached the tip of a peninsula of high ground and went ashore.  As I was stretching my legs in a clearing, a piglet appeared out of the underbrush.  Then another and another; I counted seven in all.  They were tan, brindled, and black-and-white.  They were more juveniles than piglets, but far from full-grown.  It took them a long time to detect me.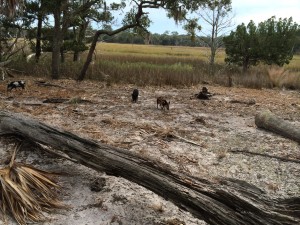 I paddled back down the creek and stopped where Don, Mike Tannen and Walter Brown had stopped.  I told them about the piglets.  Lacking an entree for dinner, we hatched the idea of herding them to the end of the peninsula and dispatching one.  We spread out like beaters on a quail hunt and walked toward the end of the land.  After a while Mike and Walter saw several of the piglets behind us.  This was undoubtedly the best outcome.
Returning to the boats, we came across a dry wallowing hole.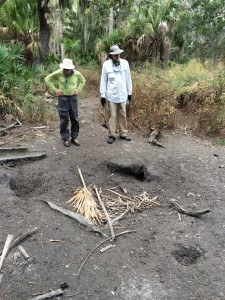 We paddled back to camp and after lunch headed down the trail toward the beach.  The path went through a forest with swamp on either side.  The trees were gnarled, shadow-throwing, and covered with spanish moss.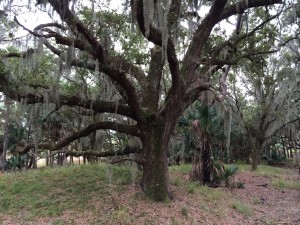 It was difficult to imagine how things looked 175 years earlier.  The Sea Islands of South Carolina and Georgia were prime ground for raising rice, cotton and indigo.  They had plantations with the hundreds of slaves on them and some of the cruelest conditions of servitude recorded in America.  Some islands bear evidence of this notorious history.  They have dikes and outlets from long-gone rice fields; a few even have slave cabins that have been preserved.  But there was no such evidence here.  Or at least none that we could see.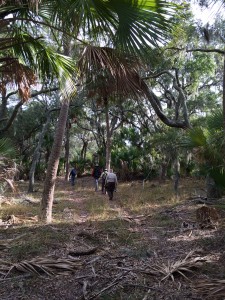 We finally got to the beach.  One of the options for the next day was "going outside"–paddling in the ocean. What we saw wouldn't support that decision.  The conditions weren't extreme, but there were endless ranks of swells we'd have to take abeam, with some breaking on invisible offshore bars.
But the beach was beautiful.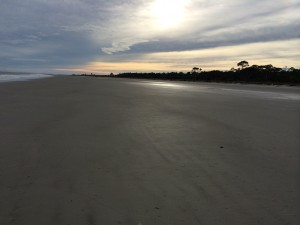 Back at the camp, we traded stories with our compatriots.  Bob did his Richard Avedon imitation, with Diane Stoecker posing.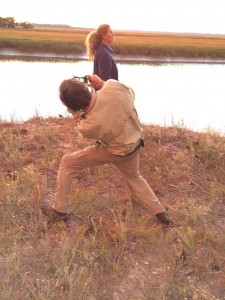 We gathered for the sunset.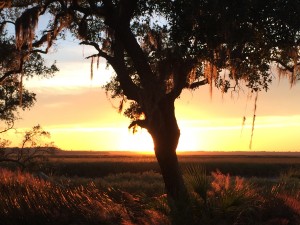 We had two kinds of oysters–roasted and raw.  After dinner, somebody read poetry.  We watched the fire.  We counted ourselves among the lucky.