April 30, 2015
Awake long before sunrise for other purposes, I decided it was a good opportunity to check on Capella and the kids.
I was camped with friends in a West Texas arroyo on a gravel bed just wide enough for two tents. On either side of us were a jumble of limestone boulders and the cliffs they came from. In the distance were humpback desert hills along the Rio Grande.
The arresting part of the landscape, however, was overhead. It was the night sky alight with stars.
I took out my phone, fired up the star-finding app and pointed it in what I thought was the right direction. I dug out of memory the first lines of a poem by Edna St. Vincent Millay I memorized in high school.
See where Capella with her golden kids
Grazes the slope between the east and north . . .
Alas, I couldn't find the "goat star" (as Capella is less romantically known). I had done so the night before. But it didn't matter. Her light had traveled 42 years to reach Big Bend National Park, and there would be another chance. Back in the tent, a scrim of mosquito netting between me and the universe, I saw two shooting stars.
The Milky Way rises in Big Bend National Park. (Brad Goldpaint/Getty Images)
There are many reasons to visit Big Bend, which seems to announce, in true Texas fashion: "No need to go anywhere else; we have it all here."
It's big — bigger than Rhode Island. It's empty, accounting for less than 1 percent of Americans' 65 million visits to national parks each year. It's dangerous; three hikers died of heat-related illness there in 2013. It has a world-class desert and river, three canyons, its own mountain range, more species of birds (450) than any other national park and 1,300 kinds of plants, most of which seem to be barb-protected.  People who saw last year's Oscar-nominated "Boyhood" got glimpses of it late in the film.
It's also the best place in America to fall asleep under the stars.
Over the past five years, Big Bend has eliminated or retrofitted the outdoor lights on the park's 289 buildings, as well as in its parking lots and campgrounds. In 2012, it received gold-tier certification from the International Dark-Sky Association, based on five measures of nighttime darkness and clarity. Only 13 parks in the world have that designation. Big Bend shares with three other places the claim to having the least light-polluted sky in the Lower 48 states.
The time may come when star-gazing is Big Bend's big draw. (The cover photograph of the official 2014 park calendar was the night sky.) Like most visitors, however, I went there for down-to-earth reasons.
A college classmate I saw at a reunion invited me to accompany him and a friend on a trip they take each fall to celebrate the friend's recovery from a serious illness years ago. They have a fondness for less-visited national parks. At Capitol Reef in Utah, someone told them to try Big Bend.
Big Bend is nestled in the U-shaped dip of West Texas's border with Mexico. The name refers to the curve in the Rio Grande, where the river's flow turns from southeast to northeast. Getting to the park requires flying to the middle of nowhere, and then driving three hours.
"We're not a place that you drive by and visit," said Kym Flippo, one of the park rangers. "You either really want to be here or are really lost."
We spent nine days in Big Bend, straddling the end of October and the start of November. We took two hikes separated by a sojourn in Terlingua (population 799), the nearest town. There, we stumbled into the preparations for two — two! — national chili-cooking contests, which turn out to be the big tourist draw in this part of the country.
Even before the plane lands at Midland International Airport it's clear what this part of Texas is all about. Oil-well pumps bob just off the runway, and inside the terminal the advertisements are for work gloves, pipe-threading, and "horizontal completions." The one nod to non-working visitors is a billboard for the George W. Bush Childhood Home, open six days a week.
After loading up on food and fuel canisters — campfires are prohibited in Big Bend — we headed southwest toward the park. The road passed the King Mountain Wind Farm, 214 turbines on a mesa south of Odessa and evidence that fossil and renewable energy are sometimes bedfellows. Eventually, the half-prairie, half-desert landscape turned into hills and, beyond them, the pillared Chisos Mountains.
Big Bend National Park is a geological textbook. Its oldest rocks date from 500 million years ago. There are ancient sandstone and shale beds, and more recent fossil-bearing limestone. The landscape is carved by igneous intrusions, lava and ash from volcanic eruptions, and tectonic fracturing, uplift and erosion.
The 35-million-year-old Chisos Mountains, topping out at 7,825 feet, are topographical newcomers. (They are also the only mountain range contained entirely within a national park.) They have some features of Utah's and Colorado's mountains, but their distinguishing attribute is they're in Texas. We were constantly running into Texans who couldn't believe they were seeing their home state.
For our first hike. my companions — Dick and Gary — and I took the popular "outer mountain loop," a 30-plus mile tour around the highest part of the Chisos. Popular, however, is a relative term. Only 5 percent of the park's visitors are backcountry campers, and only 10 percent of overnight stays are in the backcountry. One reason: Big Bend has little reliable water.
Creeks flow only after rain, springs are sometimes dry, and the Rio Grande is too polluted to drink except in an emergency. At least that's what the park service says. Hikers are told to carry or cache all the water they'll need, which in hot weather is a gallon a day per person. The three dehydration deaths in 2013 — two of them men in their 20s doing geological research — was an unusually high number. But there's often at least one a season.
We took this to heart and stashed two four-gallon containers of water in a park-provided honor box at the end of a gravel road near a trail on the other side of the Chisos range. After a night in the motel at the visitor center and a morning of packing, we headed into the mountains carrying 15 pounds of water each, in addition to everything else.
With 3 1/2 miles of switchback trail, it was an unpleasant, sweaty, shoulder-digging slog. When we got to the saddle between two mountains we skipped a further climb to the top of Emory Peak, the park's highest spot, in favor of staying on the ridge-top trail to the campsite. We slept that night in a grove of junipers. A few mosquitoes bit us and a couple of deer wandered by as stars appeared through branches. It didn't seem much like the desert.
Our destination — and most everyone else's in this part of the park — is the view into Mexico from the South Rim of the Chisos. We could get to it by a four-mile loop that intersected with the trail we were on, so in the morning we hid our water-laden packs in the woods and proceeded unencumbered to the rim.
It had rained recently, and the fall wildflowers were out. Tubular blossoms of scarlet bouvardia decorated the trail that wound through dwarf oaks and pinyon pines. We passed a couple of tarantulas, big as mice and almost as furry, ambling down the trail with us.
The view from the South Rim is the Big Bend postcard shot (or at least the daytime one). You can take it in from several vertical overlooks so high and unprotected your feet tingle as you inch to the edge of them.
Yellow lichens stained the rock face (if you want to look down), and junipers and laurels, growing from cracks, peeked over the top. To the south were the pink cliffs and mesas of a formation called the Sierra Quemada. To the west were the foothills of the Chisos, covered in what looked like the olive upholstery of our grandparents' Buicks. In the distance were shiny stripes of the meandering Rio Grande. It was as if a giant Japanese watercolor — uninhabited, idealized, and horizontal — had been unscrolled in front of us.
We headed back to our packs and began our descent into the postcard.
It was a drop of 3,000 feet over six miles, the temperature rising as we walked. The first mile was alpine, the air scented with sage. The trail eventually gave way to steep washes that made downhill walking treacherous. At the desert floor the trail leveled out and we soon encountered an overnight hiker, a lone man from Galveston.
He'd started from the visitor center that morning but had stopped short of his intended campsite because, he said, "my hips gave out." He was sitting in a collapsible chair on a patio-size piece of cactus-free ground with a view of the mesas. He seemed ready for cocktail hour.
After persistent querying by my companion Dick, who is a physician, he assured us he was okay. He didn't need Naprosyn and had plenty of water (and, he added, "some vodka"). He said he'd feel better in the morning — and he wouldn't even have to call Dick.
We left him and trudged on. The sun set and we, too, eventually stopped short of our goal (and water cache), making camp on a gravel patch beside the trail. That night we rationed water, a reminder of where we were. Gulping the last of it at breakfast, we headed down the trail and found we'd stopped just a quarter mile from our bulging jerry cans.
Rehydrated and reburdened, we headed out across the desert below the South Rim. Within minutes we had to walk around a rattlesnake on the trail, which perhaps was an omen. Soon we'd lost the trail, and fanned out, search-party style, to look for it.
It took an hour, but finally from the top of a sandstone outcrop I spotted a tan slash going up the side of a distant wash. We headed for it by dead reckoning, legs and arms bleeding from rocks and plants. You could get scared pretty quickly if you were lost for long in such a place.
This part of Big Bend once had enough grass to support ranching, but overgrazing had turned it to desert. The only sign of human occupation we encountered for 10 miles was a single rusted horseshoe.
We spent the day going over ridges, across streambeds and past Elephant Tusk, a miniature mountain we'd seen from the South Rim. We flushed quail. We wandered through a grove of ocotillos, leafed out after a recent rain. Sections of the trail were overgrown, and every encroaching stalk and leaf was sharp. Our socks were full of needles when we reached our destination, the Homer Wilson Ranch.
A one-story sandstone building, it was once part of a sheep-and-goat operation that began in 1929 and eventually took up 28,000 acres. Last occupied in 1944, it lacks windows and interior partitions but is untrashed and doesn't have a stroke of graffiti on it. A south-facing door frames a formation called Carousel Mountain. The house feels like a Zen temple, the rare human remnant that completes rather than mars the landscape.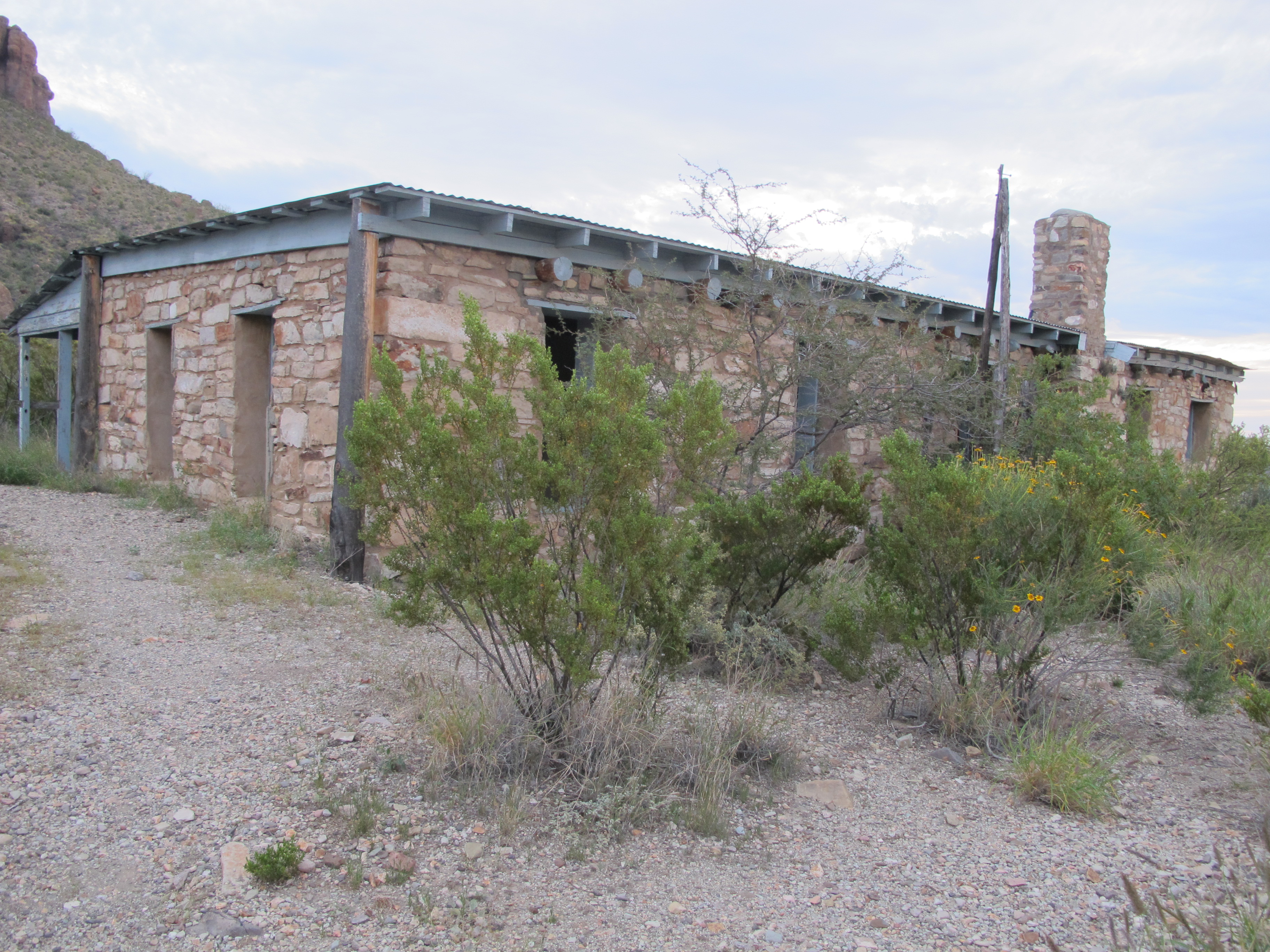 Homer Wilson ranch.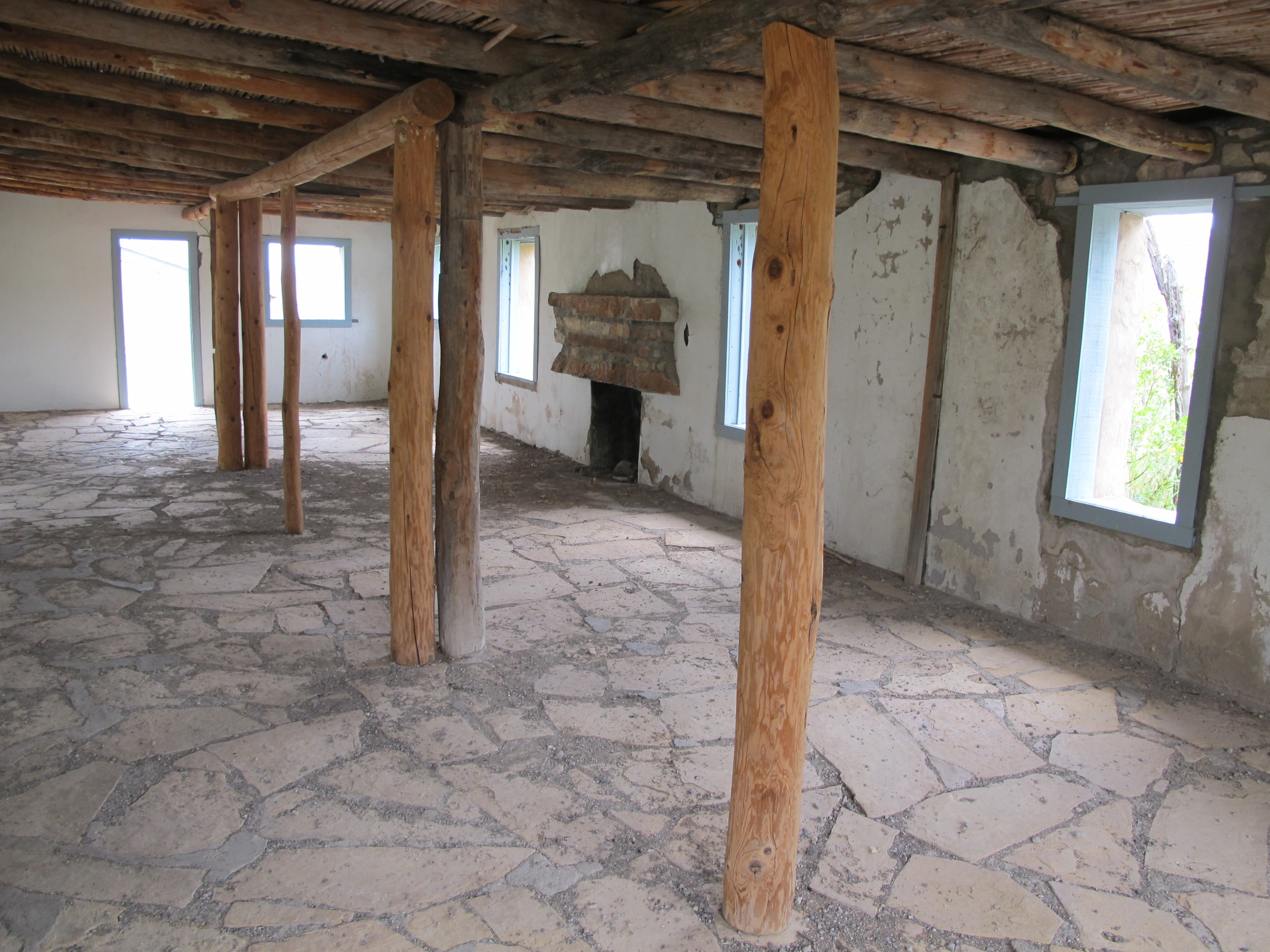 The interior.
We made camp nearby and slept soundly after a dinner of avocado halves, pasta and double rations of wine. It rained in the night. Our now-sodden packs were even heavier when we headed back into the mountains the next morning.
We were ready for a couple of days in town.
*                                                                  *                                                                  *
That meant Terlingua, a name some may recall from the 1973 album "Viva Terlingua! by Jerry Jeff Walker (which, it turns out, was recorded elsewhere in Texas). A center of mercury mining at the dawn of the 20th century, it's now a ghost town, with a few stores, motels and outfitters, and competing chili-fests.
The original one (now called the International Frank X. Tolbert-Wick Fowler Memorial Championship Chili Cookoff) started in 1967 as a competition between two journalist-cooks. Over the years the competitive field expanded, as did the number of spectators. In the 1980s there was a schism. A second organization, the Chili Appreciation Society International (CASI), was formed, and now holds the Terlingua International Chili Championship on the same day — the first Saturday in November — as the cook-off down the road.
The two events draw about 10,000 people for most of a week. Only a few hundred are cooks, and we ran into one of them at the laundromat.
Larry Walton, a maintenance man from Robinson, Tex., won the 2011 CASI competition, which had 315 competitors. He and his wife compete three weekends a month in cook-offs throughout the Southwest, racking up points to qualify for the big ones in Terlingua. The rules of competitive chilimaking are restrictive and unbending. The meat can't be marinated; all the cooking must be done outdoors; there can be no visible onion or tomato in the final product, only meat and "gravy." Visitors do the judging, following a strict tasting protocol.
Tolbert-Fowler is a family-oriented event, with things like an ugly hat contest and live music in addition to the cooking. CASI is better known for hard partying by the post-family set. We were going to miss the cook-offs, but I wanted to sample the scene. Early one morning I went up to the CASI venue, a 320-acre patch of desert that looked like a high-rent refugee camp.
I wandered in behind a truck spraying water to suppress the dust and soon encountered Jim Holbrook, 65, who was ornamenting his English bulldog with sunglasses and a tiara of devil's horns. A replica of the Statue of Liberty stood in front of his camper. He flew three flags — the American, the Marine Corps and the "Don't Tread on Me."
Holbrook is a Vietnam War veteran who won a Silver Star and Purple Heart on his 21st birthday. He'd spent much of his career as a New York bartender. Two decades ago, he retired to Terlingua. His homestead outside town looks like a hand-built theme park. It has a volcano that erupts ("three gas lines to it," he said), a pirate ship and a replica of the conning tower of the USS Thresher submarine. Asked the meaning of it all, he said: "It's the product of too much time and too much alcohol."
He then put the bespectacled dog in the front basket of his ATV and offered to let me ride on the back as he went visiting.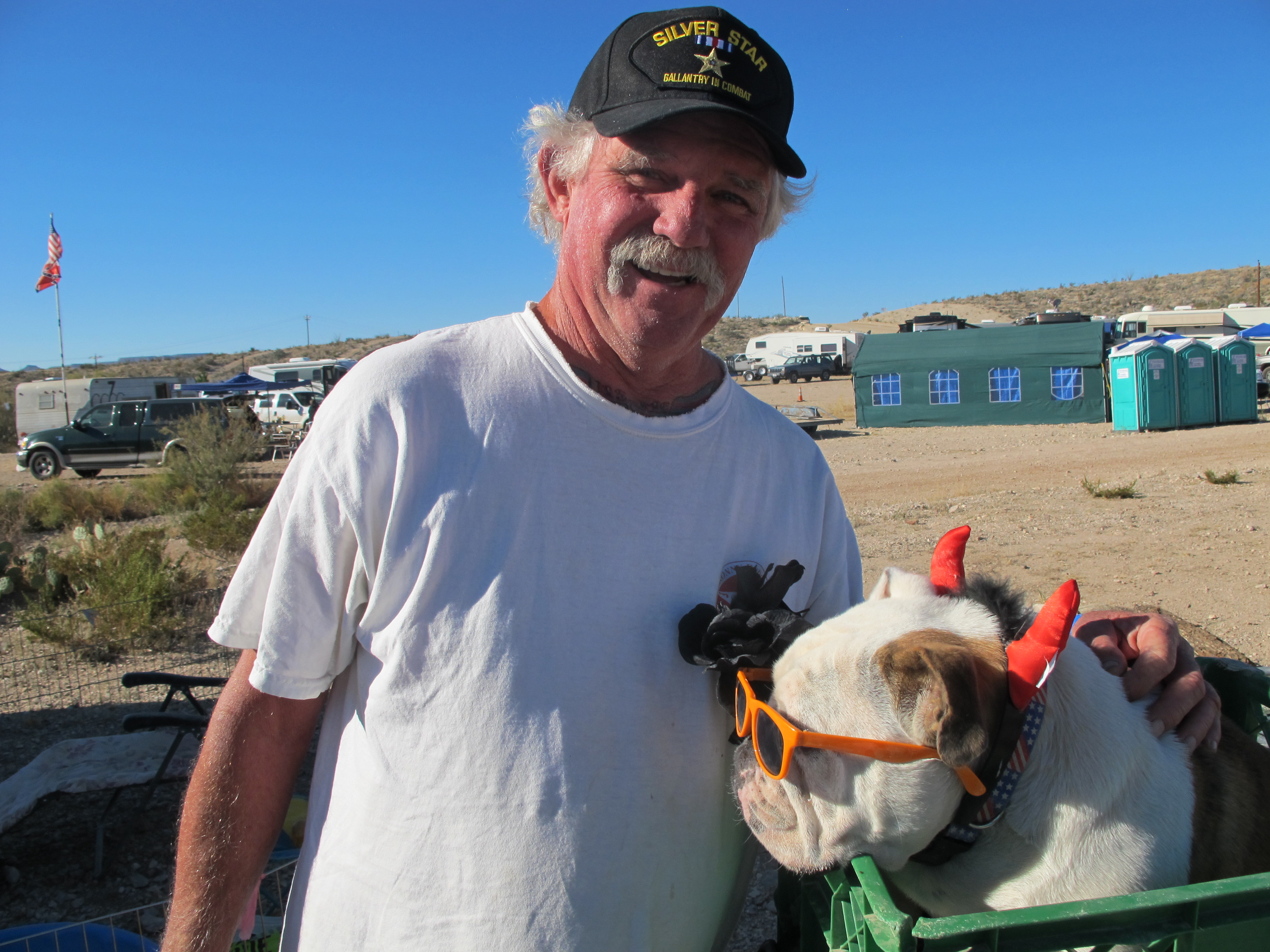 Jim Holbrook
We passed a 53-year-old man named "Wandering Bear" (no other name offered), who'd ridden from Montana on a Harley. Needless to say, he wasn't cooking. Neither was Jim Taylor, 81, who was out collecting tattered flags to be ceremonially retired and burned that evening. ("Every son of a bitch ought to do it," he said). At the edge of the encampment's commercial district was a man named Bill Bourbon, who sat under an awning selling chili paste. That's where I jumped off the ATV.
The dark and fiery product was made from a recipe Bourbon's wife's grandparents had produced commercially in the 1930s. The next generation — three sons, all World War II pilots whose pictures decorated the booth — didn't want to go into the business. Bourbon, 70, and his wife had recently pried the recipe out of the surviving uncle after years of trying and put the seasoning back into production. I bought a jar.
A two-tour Vietnam veteran himself, Bourbon had been a Big Bend park ranger for 19 years, his weathered face attesting. I told him our next outing would be on the Marufo Vega Trail at the eastern end of the park.
"That's a beautiful one," he said. "But water up."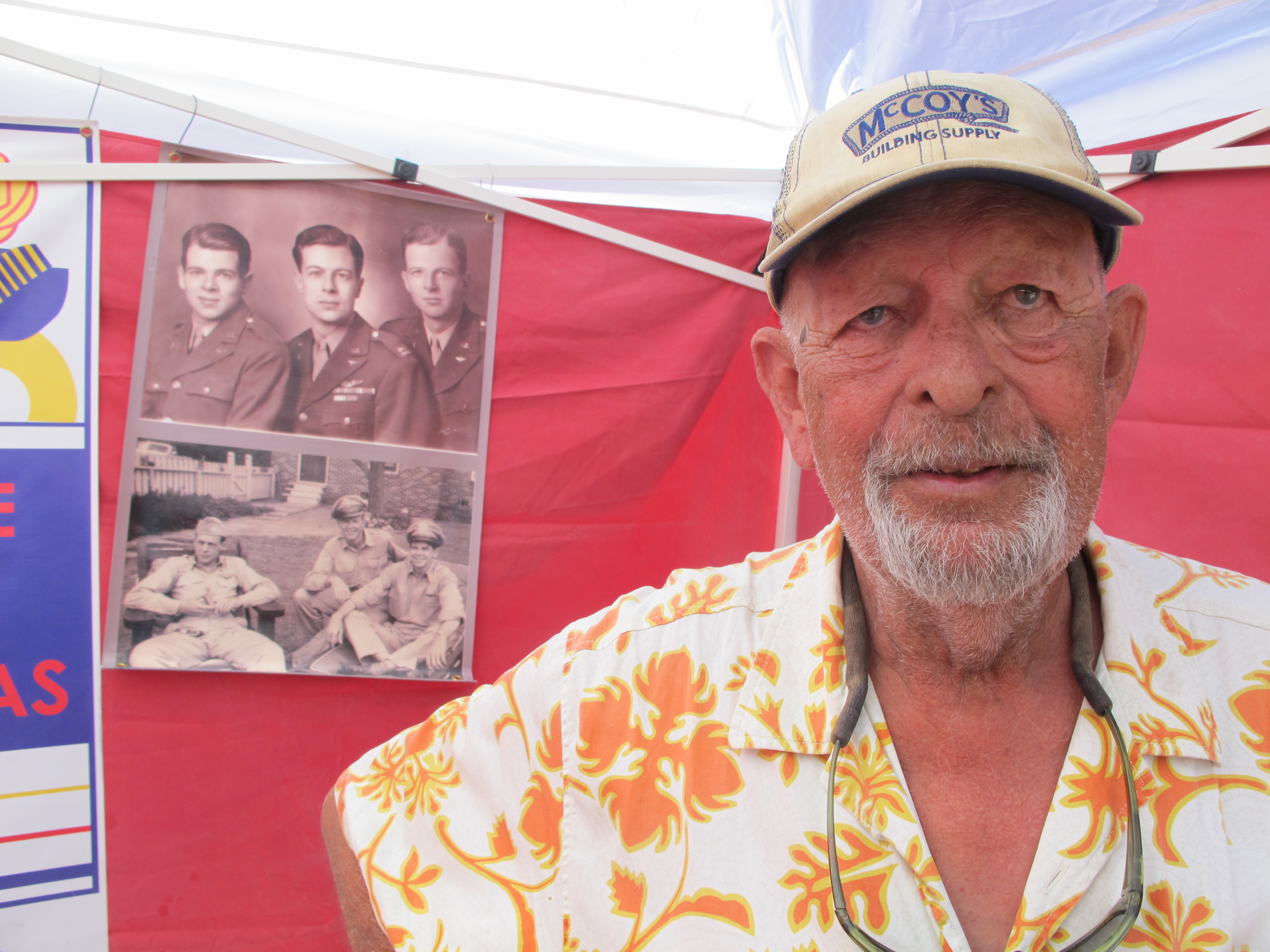 Bill Bourbon
One of the 2013 deaths was on the Marufo Vega Trail, which goes to the Rio Grande. A sign at the trailhead announced: "12 mile round trip temp. exceeds 100 F min. 1 gallon water per person/day no shade no water." Suitably warned, we loaded up on water for this one, too.
The trail passed over hills and then split into two spurs that looped around and met at the river.
The landscape was classic Chihuahuan desert. The shadeless limestone hills were stippled with vegetation — the shin daggers of lechuguilla, the star-burst of sotol, the lavender fuzz of plume tiquilia, ceramic-leafed tidestromia — spaced uniformly to make the most of what little moisture existed. But it had not always been dry. Part of the trail was mudstone embedded with fossil mussel shells.
We saw just two other hikers before arriving at the trail split. We left our gear in a dry streambed — that night's campsite — and headed down the northern spur of the loop.
It went over more hills and then descended a canyon at an angle steeper than stadium steps. We steadied ourselves with our hands and eventually had to get down and slide on our rear ends. We passed occasional piles of dessicated horse manure attesting to the astonishing fact that the descent could be made on four legs, if not two.
Soon, we were on a bluff that eons ago had been the Rio Grande's bank. In the distance were the cliffs of the Sierra del Carmen, in Mexico. The river, pea-soup green, flowed north in silence. Above it was a hill with a patch of erosion showing sedimentary layers, like a scar revealed in private. There wasn't a person in sight, nor a building or animal. The only thing moving was a late-afternoon breeze off the cooling rock. It would be dark in a few hours, and we had the other half of the loop to do. We left a walk to the river's edge for another day.
Jupiter and Venus were bright in the sky by the time we got back to our packs on the gravel bar.
The evening show was about to begin.