I haven't lost anything yet on this trip (I suspect not even weight, given the 2,800-calorie per day meal packs I ordered).  But it hasn't been for lack of trying.
In  Braemar, I spent the afternoon in the great room of the Fife Arms Hotel reading and writing.  When I got halfway out the door I realized I didn't have my hat, so I went back and got it from under the chair.
I got partway back to the B&B and remembered I'd left the phone and iPad charging cable and plug adapter plugged into the wall behind the chair–a potentially disastrous loss.  So I went back and got them, too.
The next morning when I left the B&B I did some rearranging of the small compartment in the top of the pack where I keep high-accessibility items.  That required spreading things out on an outdoor chair outside.  I finished, hefted the pack and got halfway down the driveway when I remembered I didn't have my trekking pole.  I went back and got it from the front hall.  As I walked past the chair, I saw my wallet sitting on it.
For a while I did think I'd lost something–a green and yellow camp towel with my son Will's name tag ironed on to it.  He took it to camp one year.  It's quite handy, given that none of the microfiber garments I'm carrying and wearing actually absorb water.
The towel was in the load of laundry the people at the B&B in Newtonmore kindly did for me.  Or at least I thought it was.  I didn't have it the next time I looked.  I thought it might have been mistakenly returned to Pete Little, the coffee-shop manager and fellow Challenger who'd spent the night there too.  But when I saw him a day later he didn't have it.
I have found some things, however.  Or people, I should say.
My route took me through Tarfside, a village in Glenesk that allows hikers to camp on the commons.  It has a hostel in a church, a few houses and rental cottages, but no store.  The  Masonic Lodge has permission to function as a pub for a couple of nights during the Challenge.
After dinner, I went up there and had a couple of pints.  I brought along the office–a small dry bag with the iPad mini, keyboard, cables and papers in it.  I thought there might be a corner where I could catch up on some writing.  But it was standing room only, so I put the bag on the floor next to the bar and proceeded to socialize.
After a while I left and went up to the hostel where Marion Mitchell had been serving dinner to hikers earlier in the evening.   As readers of previous posts might recall, she is the wife of Alan Mitchell, the father of the father-and-son team I'd hiked with for two days early in the walk.  Marion, his second wife, is reputedly descended from John Brown, the martyred Covenanter from whom I'm descended through my mother's mother.  There's a monument to John Brown, shot in cold blood by an officer of the English army, in a moor south of Glasgow.  Marion and Alan had visited it, as had my parents years ago.
At the hostel I was directed to the kitchen, where five women were washing large pots.  I asked for Marion and introduced myself.  She had heard of me from her husband.  (Alas, he and his son, Colin, had "retired" from the walk several days earlier because of a flare-up of an Achilles tendon injury of Colin's).
As I was standing next to the sink going over geneology, I leaned on the counter with my right hand.  There next to the dish drainer was Will's camp towel.
"A young man brought it by in case you stopped," Marion said.
That was Pete Little.  His parents, who are hopscotching in front of him in a car, found it at the B&B and handed it off.
Marion said she is descended from a woman named Christian Brown, one of John Brown's children, she thinks by his first wife.  The geneology book I'd consulted mentioned that Brown's first wife had died.  I'll have to reconsult it when I get home to see if Christian is mentioned.
As we were talking, I mentioned that my maternal grandmother's maiden name was McCormick, so I probably had Scots ancestors other than John Brown.
"I'm a McCormick," said one of the other women.
So I'd found two (possible) distant cousins.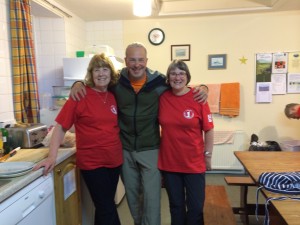 Marion has done 10 Challenges, the first one in 1986, the last one five years ago with three other women.  She doubts she'll do another one.  I asked her why she did so many.
"It's in the blood.  I suspect that may be why you are here," she said.
When the clean-up crew was finished they had a wee dram and invited me to join them.  I talked with a man named John Donohoe, a Scotsman of Irish ancestry (as he says many Scots are, although they don't like to admit it).  He told me about cutting and drying peat, the universal fuel in the west of Scotland, which has few trees.
As a consequence, the ridgepole of a house, made from driftwood or the rare felled tree,  was a precious possession.  When people moved, they sometimes took it with them.  And when the laird wanted to move the tenants off, he only had to burn the roofs of their cottages.
I finally bid them good night and staggered off to bed in the one-night tent city on the green.
The next day when I packed up, my pack seemed less full that usual.  I looked around and wondered what I could be missing.  Then I remembered:  the office bag.  Basically all the electronics.
I walked up to the Masonic hall, which was locked tight.  Hanging on the door handle was the bag.  With everything in it, of course.