If you really want to hear about it, the first thing you'll probably want to know is that my flight out of Dulles was cancelled after a three-hour wait on the runway with a broken circulating fan, where I had to spend the night after the airline ran out of hotel rooms, what it was like to see my Leatherman confiscated because a I forgot to put in in checked luggage, how I had to buy a £25 hat because I had left that behind too, that my phone keeps telling me I have no cellular service even though I bought a Vodafone SIM card, what it's like to be 24-hours behind schedule and make a connection to a three-day-a-week bus with less than 10 minutes to spare, and that my Bluetooth keyboard thinks an 'at' sign is a quote mark, and a quote mark is an *, and all that David Copperfield kind of crap, but I don't feel like going into it, if you want to know the truth.
The important thing is that I'm back in Scotland for another whack at The Great Outdoors Challenge, the annual west-to-east walk across the country with backpack and mental baggage.
I'm taking a different route from the two previous ones (of course)–a history-rich beach walk along the Moray Coast. I wouldn't have thought it possible to walk a hundred miles straight east along salt water in Scotland, but it is. Or at least I hope it is, because that's my plan.
A map may help. The one below shows my three crossings, which have become successively more northerly. (Ignore the intermittent double-lines in the middle one; it shows the 'foul-weather alternative' required for some parts of that route).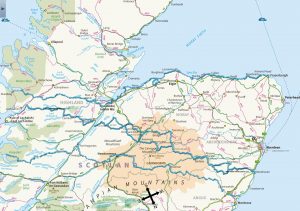 This year I'm leaving from a place called Torridon and going through deep and steep Highlands for four days, surfacing on the Moray Coast in Inverness. From there it's by trail and bushwhack to Fraserburgh at the corner of the Moray Firth and the North Sea.
I appear to be carrying more than ever, although the how and why is hard to understand.
I'm carrying fewer clothes, and have downsized to a lighter three-season tent. I traded a thermos for a pair binoculars, as the Moray Coast is famous for birds, cliffs, dolphins and seals. True, I'm carrying four days of food (including cheese and oatcakes for lunch instead of the tiresome granola bars), which adds weight. So does the small bottle of malt. I'm offloading a lot of paper tomorrow, which I hope makes a different. But it's hard to figure.
I wish this were the true weight.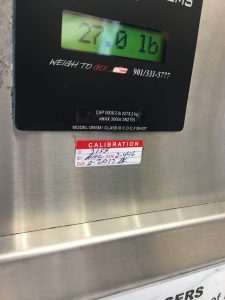 But it wasn't. It ate heavily in Glasgow.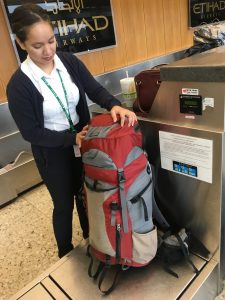 At the Glasgow Airport I met a father-and-son team from Catonsville, Md., who are doing the Challenge for the first time after learning about it from the travel story I wrote in The Washington Post last year. I'm told there are an unusual number of Americans on the walk this year.
On the train, I met an American named Paul D'Ambrogio, who is a neuroscientist at the University of Stirling and has lived in Scotland for 17 years. This is his second Challenge. His wife was going to join him for part of it but twisted an ankle, so he's going alone. We had an interesting couple of hours as we sped through a landscape of new-growth grass and flowering gorse–vivid green and vividder yellow. It was snowing here two weeks ago.
I made it to the Kinlochewe Hotel in time to make 7.30 p.m. reservation for one. The bus drove off.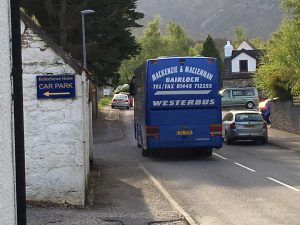 I had rope-cultured mussels and wild boar-and-apple stew–Highland surf 'n' turf (or more precisely, loch 'n' load).
Then I shouldered the barely portable pack and walked the mile to the B&B.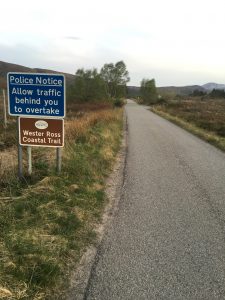 Now vee may perhaps to begin. Yes?