It's not exactly high season in Cinque Terre. But it is far from off season. (Enrico says there are only 30 permanent winter residents of Corniglia, the smallest of the five villages. When he comes in January, he said,  "It is so beautiful it makes you cry.")
At the moment, the guest population consists mostly of couples with pre-school children, and retired people with money to spare and, in some cases, insufficient "situational awareness."  The latter would include me.
I lost my wallet a couple of days ago. I'd like to say my pocket was picked by a Ligurian Houdini, but I think absent-mindedness and a natural inclination to lose things were the main drivers. (Readers of the Scotland postings might recall my close calls there in the entry "Lost and Found.")
Ellen, Jim and I were at a gelato emporium, probably a good place for marks.  I had paid for the ice cream and was having a hard time picking two coins and two bills off the change tray on the counter while holding a bag of unnecessary objects in my left hand. Where the wallet was is unknown to my memory. All I know is that about 15 minutes later I sensed its absence.
I rummaged through the bags—I actually had two of them; we'd just come ashore from the boats—and it wasn't there. I returned to the gelato shop and it wasn't there either. Nor was it in 15 trash cans I rooted through.
So I was pretty much resigned to losing 50 euros, 70 dollars and, more distressingly, two credit cards, my license, a childhood's worth of wallet pics of Will, various notes and quotes, and a collection of irreplaceable worthless scraps of paper.  I got statements of sympathy from the group, which I paired with self-recriminations and knew what I'd be thinking about most of the afternoon.
When we checked into the hotel—we were in Monterosso al Mare, the most eastern (upcoast) of the villages—and told Enrico and Daniele of this event, they immediately went into the village, stopping at the gelato shop and then working their way west.
When they got to the train station Daniele went into the tourist's bureau on the first floor. He asked if they had found a wallet, and before the sentence was out of his mouth the person behind the counter had said my name. The wallet had just been turned in. Daniele emerged onto the sidewalk holding it in front of him for Enrico to see like a just-hooked mullet.
Needless to say, I was very grateful. Very. And I hadn't cancelled the credit cards in the preceding hour, so I was back in business (or whatever) immediately.
So enough of that.  I'm lucky.  And I'm glad I carried the bags for the old couple in Genoa.
We spent the night in Monterosso, our last in Cinque Terre, before taking the overnight ferry to Sardinia. The town has two parts—old and new–separated by a rocky point you can walk around on a path or through in a tunnel.
We'd paddled from Corniglia, stopping in Vernazza, the village in between, before getting to Monterosso. The distance was not great. But we hugged the shore at the guides' request, which stretched it out a bit.
One of the things we passed was a Genoese watchtower. Round and stone (of course), the towers are symbols of Genoa's reach, seen throughout the Mediterranean, from Morocco to Syria, even at the Bosporus, Enrico said.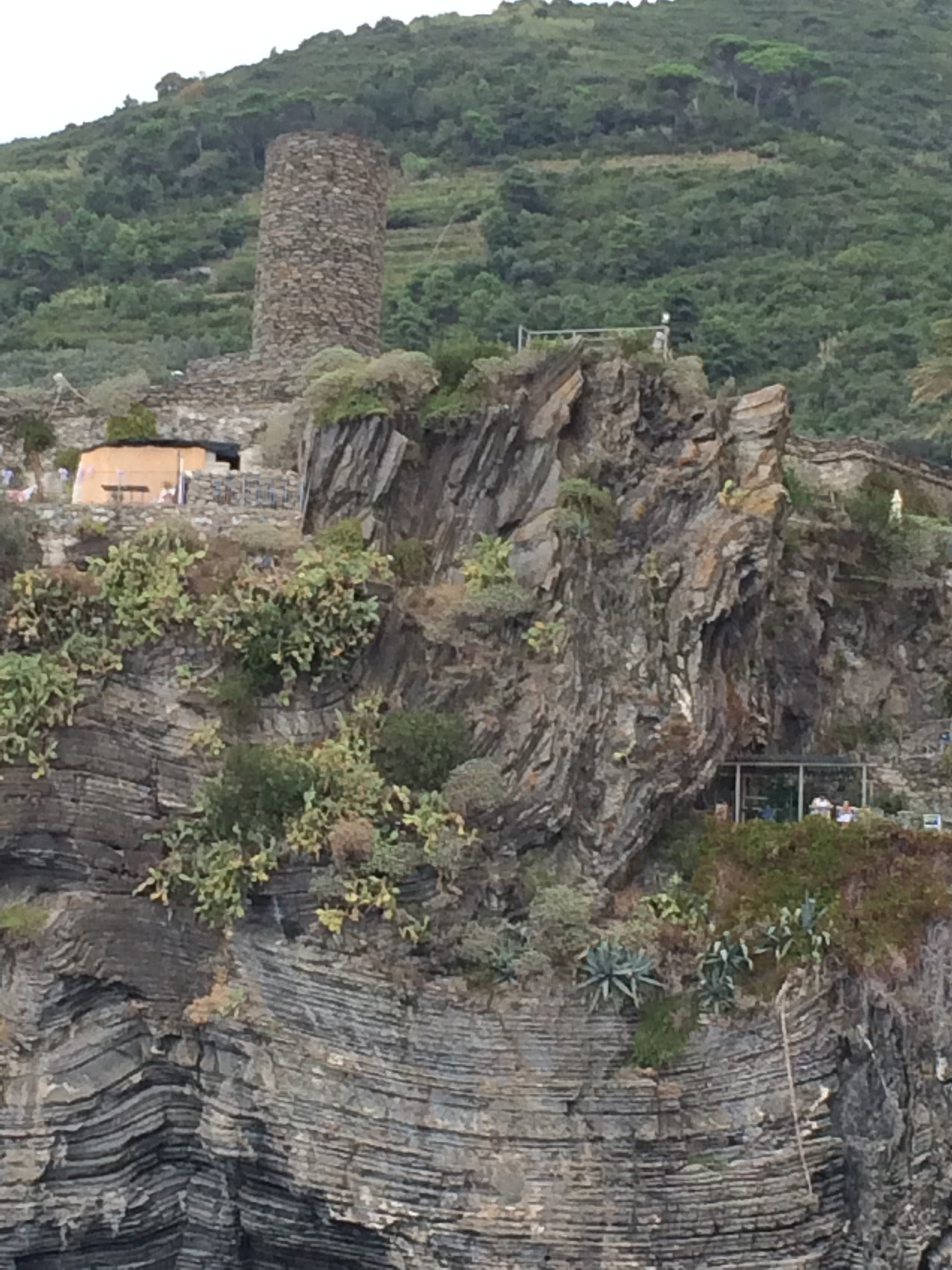 At one end of the harbor in Monterosso is a villa with a rocky promontory in front of it. Like a figurehead of a ship, carved into the rock is the slumped body of a man. He is missing his arms and a leg; his abdominal muscles are well-preserved, however. I would have guessed he was Prometheus chained to the cliff, but he is apparently supposed to be Neptune. The sculpture was commissioned by a big Mussolini supporter who owned the villa. It combines the Fascist idealization of the body and fascination with mythology. Or so we were told.
We had a number of hours to kill before the evening activities, so Ellen, Jim and I walked the next village down the coast, Vernazza, where we had stopped for coffee a couple of hours earlier. The route was one of the old cliffside paths, the only terrestrial connection between the villages for centuries.
The path was narrow and very steep in places. On the flat part it went along a series of terraces that had had been turned over from agriculture to transportation. There were places where you could inspect the stone walls up close. One seemed to be made out of hewn logs; only when I tapped them did I realize that it, too, was all stone.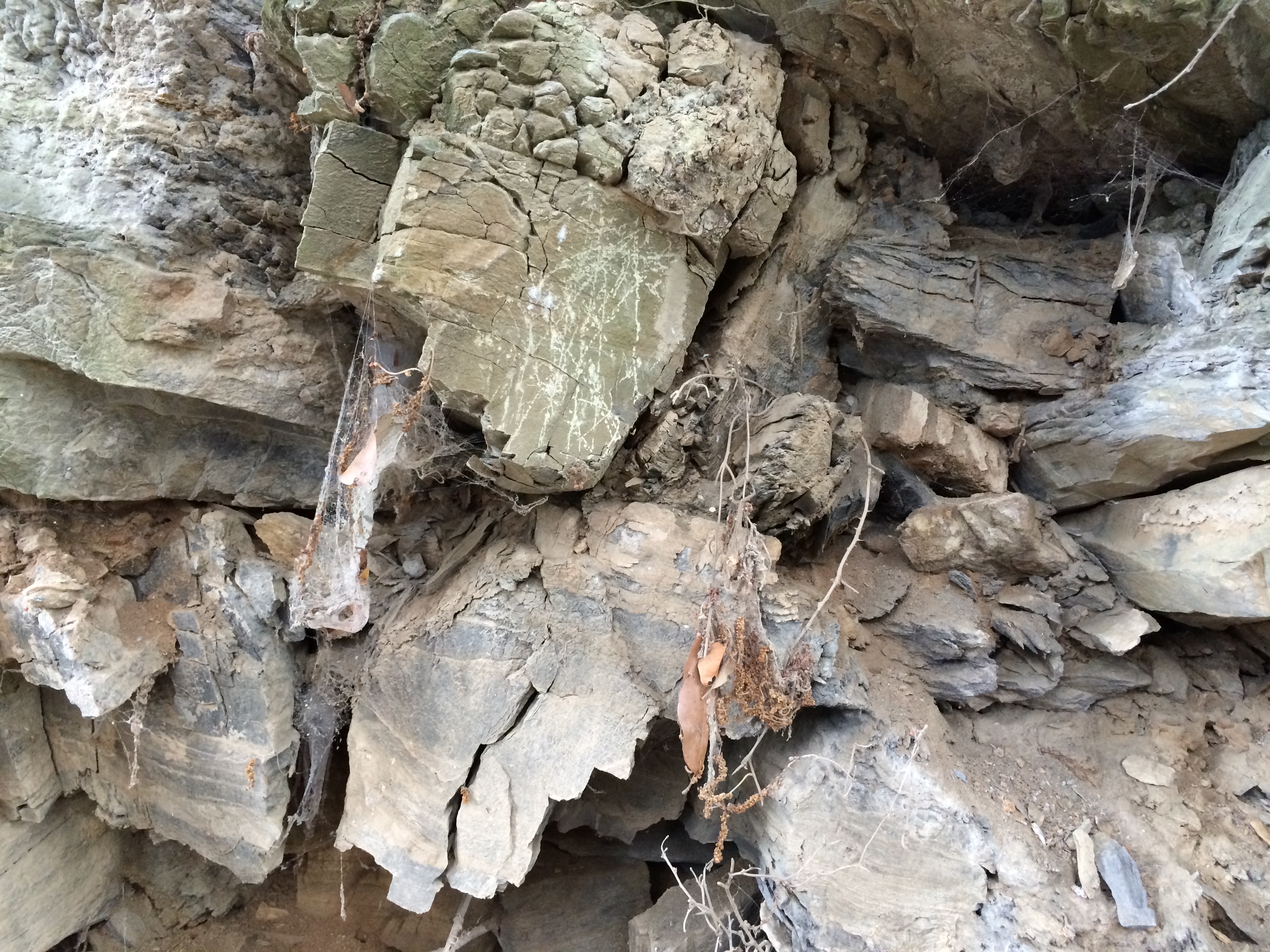 We passed by walkers of many nationalities. This woman is crossing a stone bridge (with mortared, not dry, construction) over one of the many watercourses down the hillside.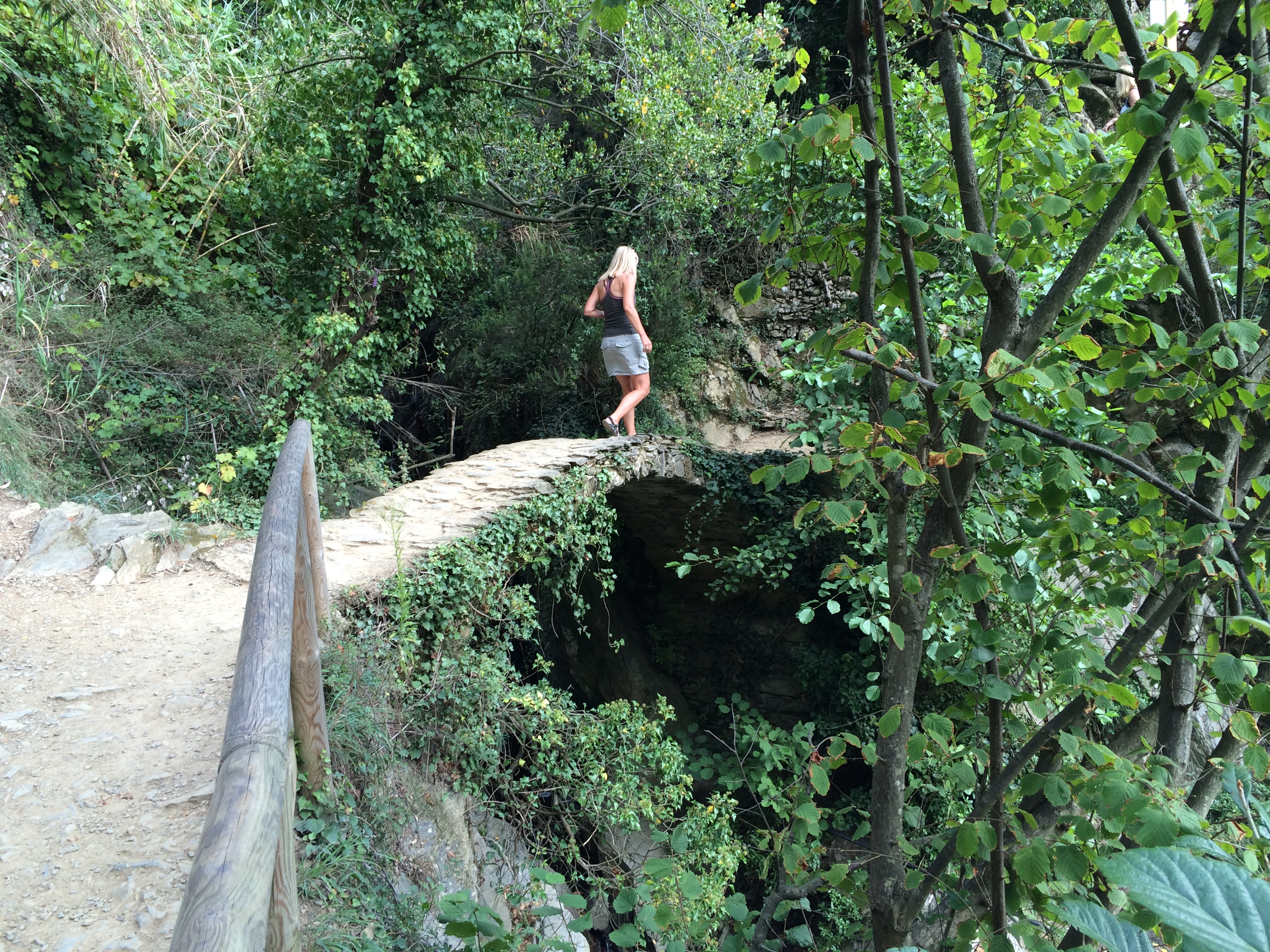 We also encountered a man who had a shack on a long stone staircase, where he was selling lemonade, the lemon-flavored liqueur known as limoncello, and wine. All were from his production from the terraces. I suspect terrace agriculture is now limited to niche marketing, with this man, gnome-like, in his very own niche.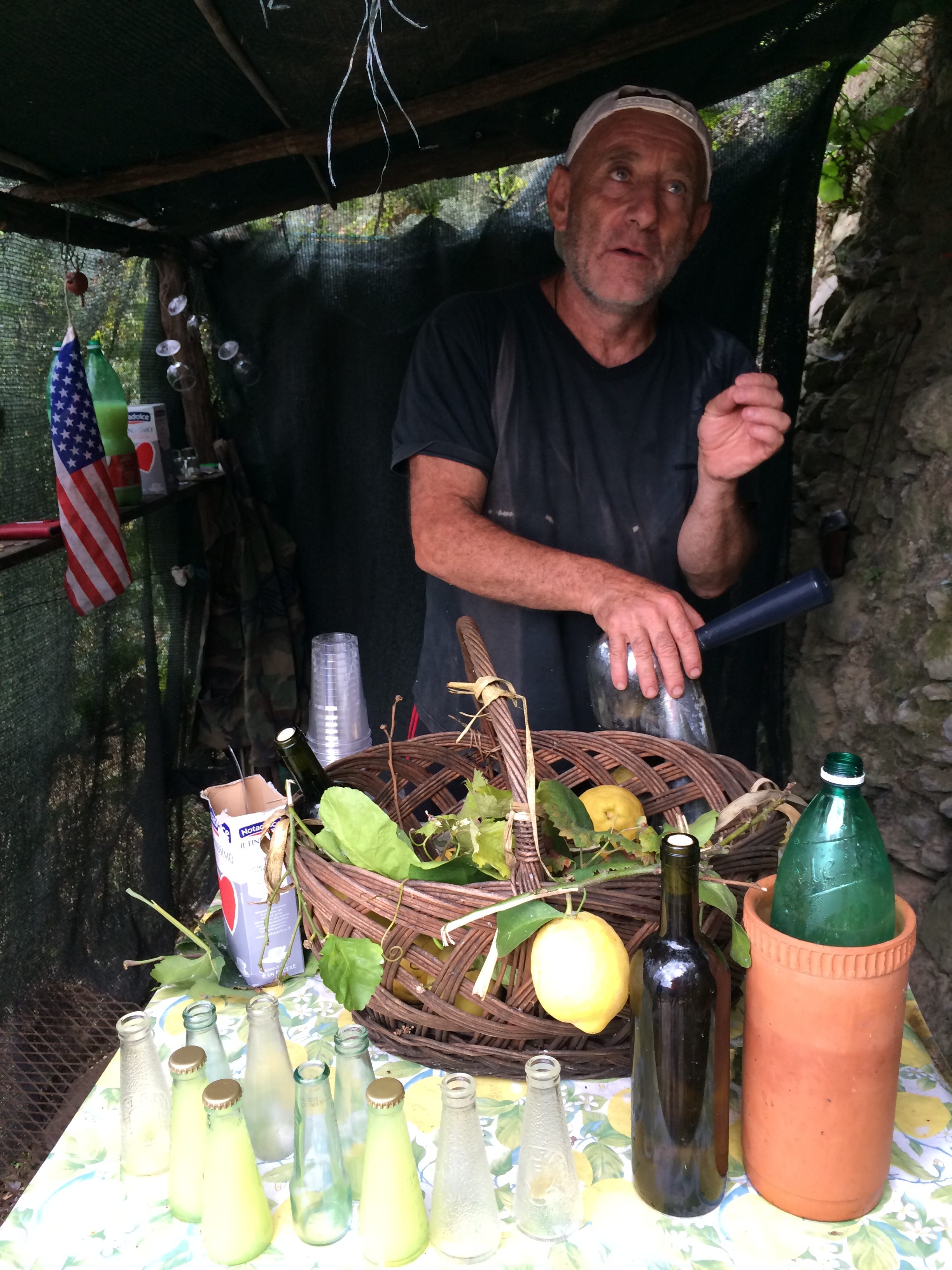 We bought three glasses of lemonade, and then I bought two small bottles of limoncello. He asked us where we were from, and when we told him he pointed out a small American flag at the back of the shack.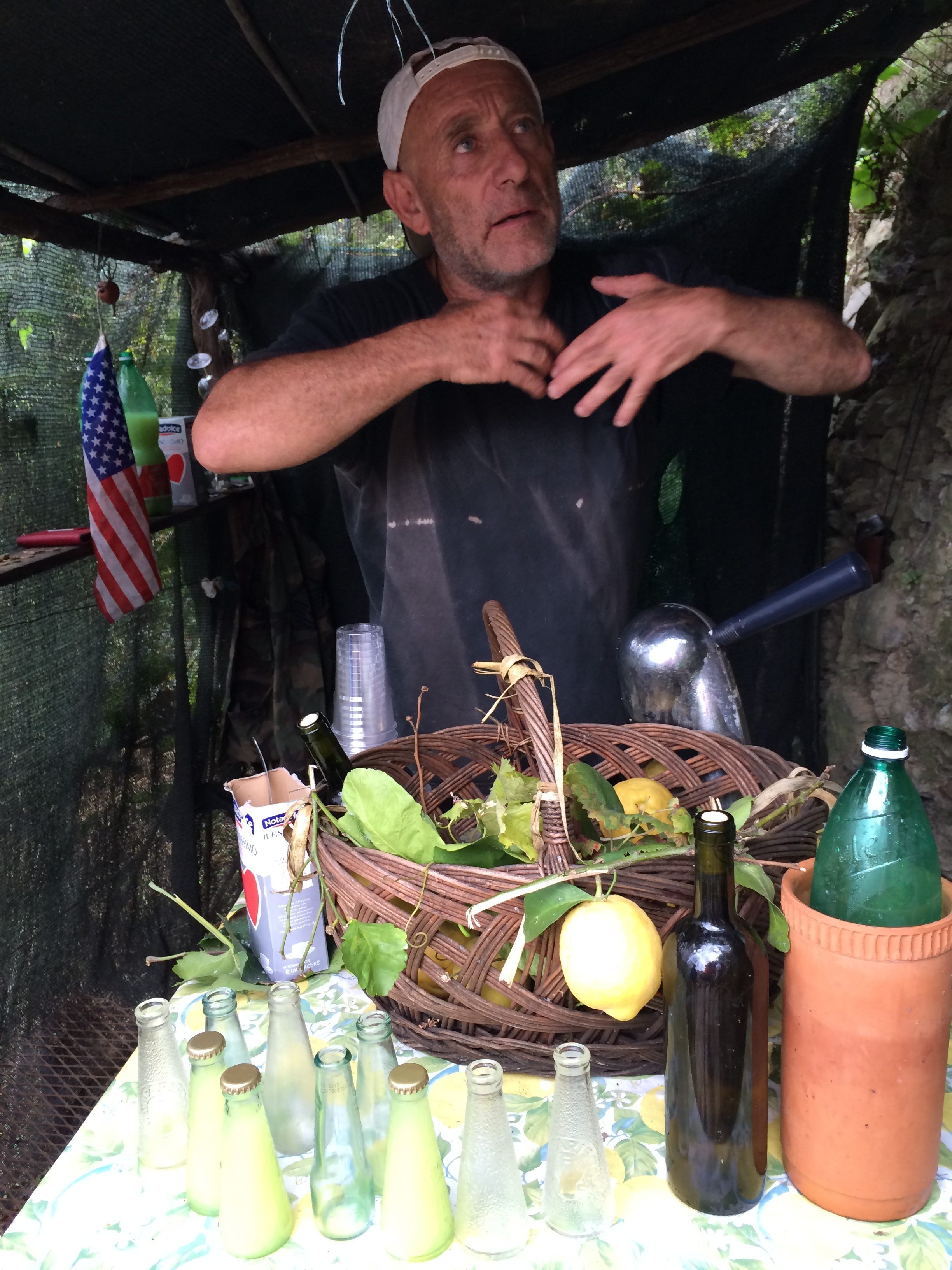 "When the Russians see this and the Muslims see this they hate it. They ask, 'Why do you have that thing there?' he said, puckering his face as if he'd just eaten one of his lemons. "Why do I keep this? Because the Americans saved Italy in 1944! They gave us our freedom back." Although he couldn't have been old enough to remember this, he spoke with the fervor of a witness.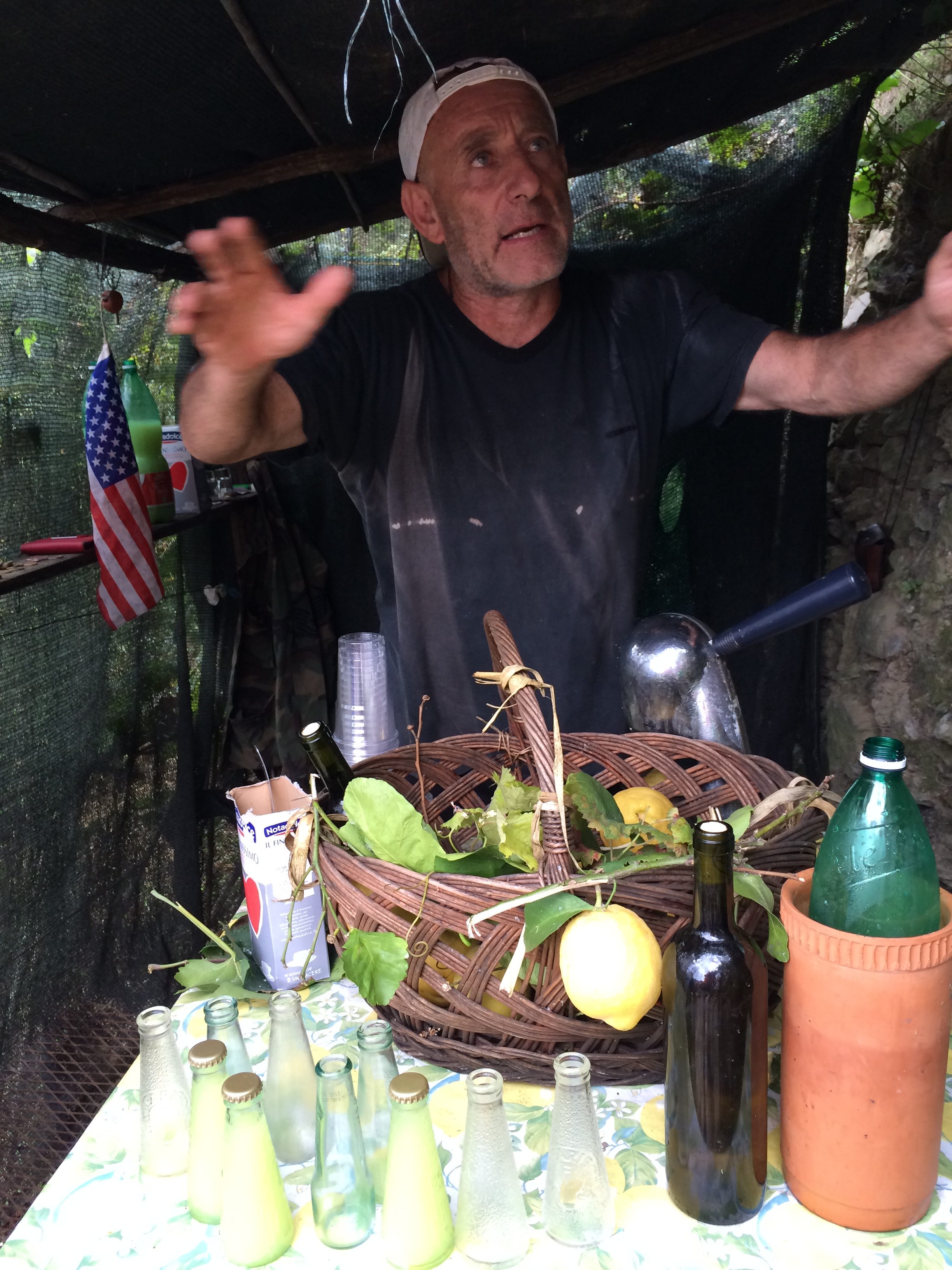 He mentioned the name of an Italian city where there is an American military cemetery.  "There are 10,000 Marines there."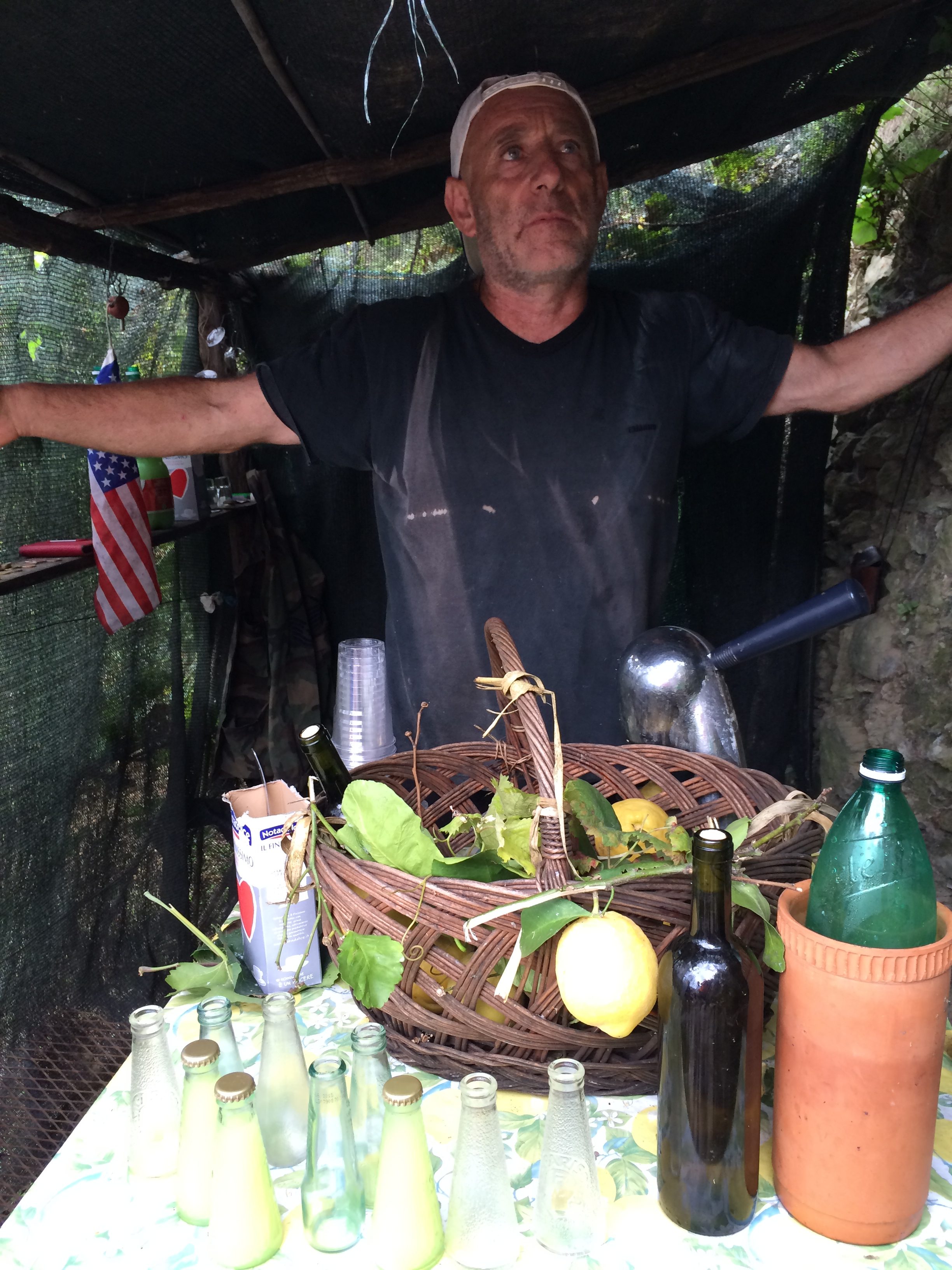 Then he added: "And if it wasn't for what they did after the war we'd all be Communists!" He grabbed the cloth of the flag while keeping the stick socketed in the wall and shook it like a dish towel.
At one place in the walk we came to a terrace with a monorail track and its car parked behind a fence. This is the one concession to mechanization on the terraces of Cinque Terre. It looks like a private roller coaster, with a motor in front and space behind the seats for boxes of grapes, olives and lemons.  The system looked frail in the extreme, but I'm sure anything is better than carrying stuff up and down on your back.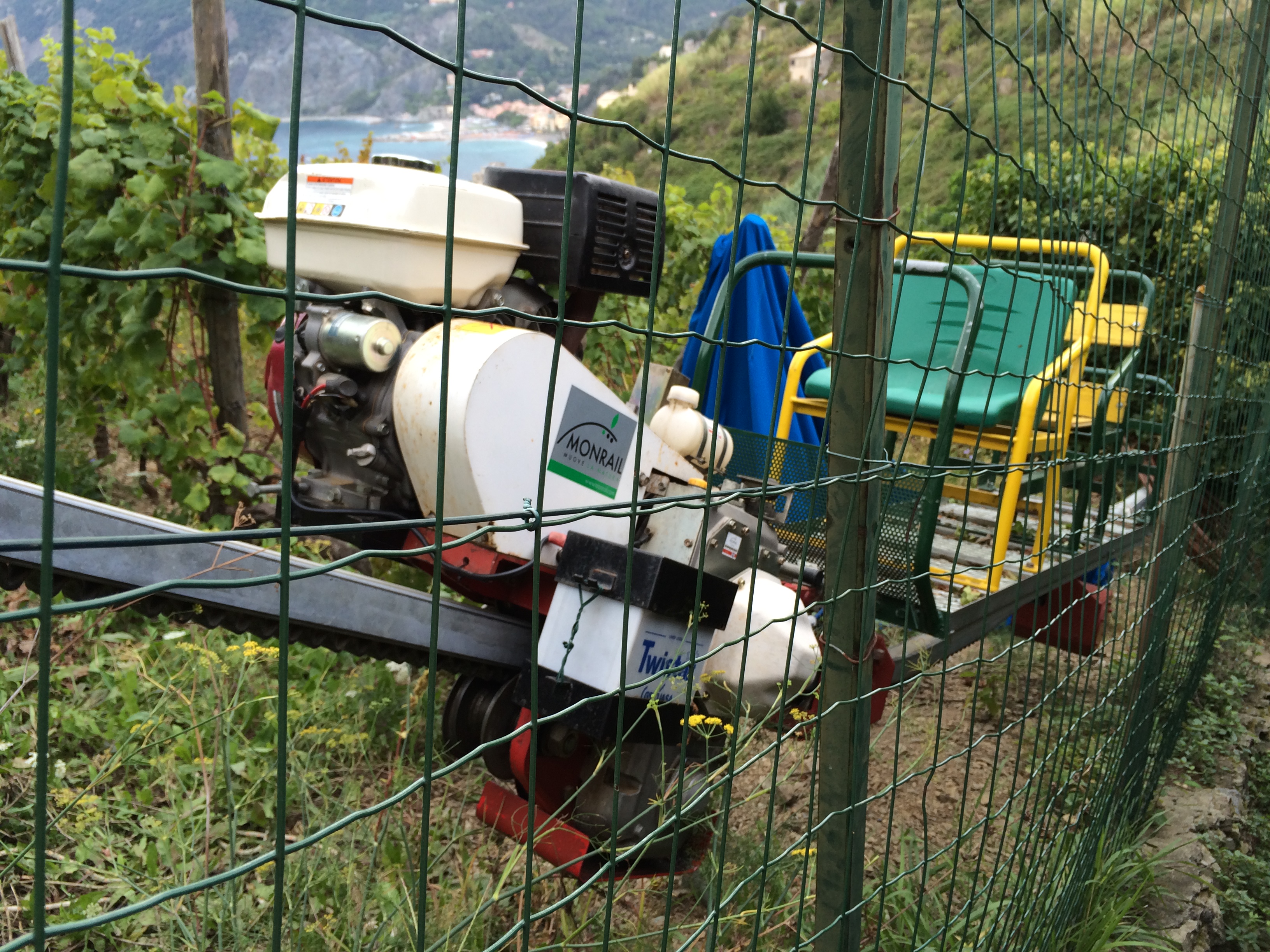 It took about an hour and a half to get to Vernazza, longer than we expected. We descended into town with a good view from above, walked to the train station, bought tickets and took the seven-minute ride back to Monterosso.