This will be the second walk I take across Scotland.   The event is sponsored by a magazine called The Great Outdoors, which is why it's called "The Great Outdoors Challenge," or TGOC.  About 320 people participate, leaving from one of 12 starting points on the west coast and ending anywhere on the east coast between the towns of Fraserburgh and Arbroath.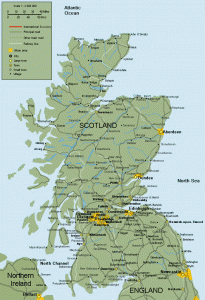 There is no single route (or even single route with variations) like the Appalachian Trail or the Pacific Crest Trail.    Instead, hikers create a route from a variety of starting materials–footpaths, ATV trails, ancient "drovers trails" and "stalkers trails" used for herding and hunting, logging roads, paved roads, even highways.  Some routes feature stretches where there are no paths at all.  There, walkers must navigate by line of sight, map and compass, or GPS.
The route I took in 2014 and the one I am taking in 2015 are borrowed en bloc from a 10-year veteran, Roger Hoyle.  I learned of the Challenge when I met him in Moscow in October 2015.  His son was a foreign correspondent there and I was visiting two foreign-correspondent colleagues from The Washington Post.  I sat next to him one night at dinner. By the time the coffee was finished I'd decided to give it a try.  I could not do this, and would not have tried, without Roger's transatlantic hand-holding.
The chief service of the event's organizers (all volunteers, of course) is to give advice on route-design.  That is done by experienced hillwalkers, some of whom appear to have total recall of the landscape.  A route, with "foul-weather alternatives" for sections where rains can make rivers  uncrossable, must be submitted three months in advance and be approved.  Walkers are also obliged to report in by phone to Challenge Control four times during the walk.  One-quarter of the walkers go alone.  Given the nature of route design, however, meeting people along the way is inevitable (not to mention desirable).  That was my experience anyway.
This year I'm starting in the village of Strathcarron and finishing  at Dunottar Castle, near Stonehaven.  The route is shown as a series of blue dots (waypoints) on this map.  The distance is 189 miles and will take 13 days.  That is, if I make it.   The route is farther north and more difficult than the one I took in 2014 from Mallaig to St. Cyrus, which is also shown.  You can click on the maps and pictures to enlarge them.